Please note that I may earn a small commission from purchases made through product links in this article at no extra cost to you. As an Amazon Associate I earn from qualifying purchases.
Last updated: August 13, 2023
Nine tasty avocado smoothies with nutrient-rich ingredients, perfect as a meal replacement or as a post-workout refreshment drink.
Blending avocados in smoothies may not be for everyone, but I like the texture that it creates, especially when combined with other fruits and veggies.
That's right, avocados bring so much more than just a touch of green to our plates. When whirled into the perfect smoothie, avocados transform our mornings, post-workouts, and snack times into moments of creamy delight.
Ready to sip on health and indulge in flavor? Let's blend into the world of avocado smoothies, as I am sharing nine of my favorite recipes.
9 Delicious Avocado Smoothies
The following avocado smoothies preserve that characteristic avocado flavor, mixed up with other potent flavors and nutrients.
1. Kale, Spinach and Avocado Green Smoothie

Let's kick off this list of avocado smoothies with perhaps the most nutritious one. Kale and spinach are two of my favorite smoothie veggies, mainly because of their strong nutritional benefits.
Combining those two greens and mixing them up with avocado and various fruits results in an incredibly tasty and rich smoothie. This kale, spinach and avocado green smoothie recipe has the perfect balance between vegetables and fruits, making it taste very refreshing and not too green.
I love drinking this in the morning as a powerful breakfast smoothie, or otherwise, a few hours before dinner to fight that almost unavoidable 3 pm afternoon energy crash.
Ingredients:
50 grams (or 1 large cup) kale
50 grams baby spinach
1/2 avocado
4 strawberries (optional)
1 banana (fresh or frozen)
water + ice cubes
2. Mango Avocado Smoothie

I love mangoes! They are sweet and tasty and bring that tropical vibe, especially when paired with other fruits like bananas. Bring these fruits together, add some avocado, and you got yourself a creamy tropical delight.
I like this recipe because it also includes some suggestions for other things you can add to pack your smoothie with protein, fiber, and more nutrients.
This deliciously sweet smoothie is filled with tropical flavors that you can enjoy throughout the year, but even more so during the warmer summer months.
You can find this mango avocado smoothie recipe over at Meaningful Eats.
Ingredients:
1 cup frozen mango chunks
1/2 banana
1/2 cup ice
1/2-1 cup pineapple juice
1/2 almond milk (or water)
1/4 avocado
3. Chocolate Avocado Smoothie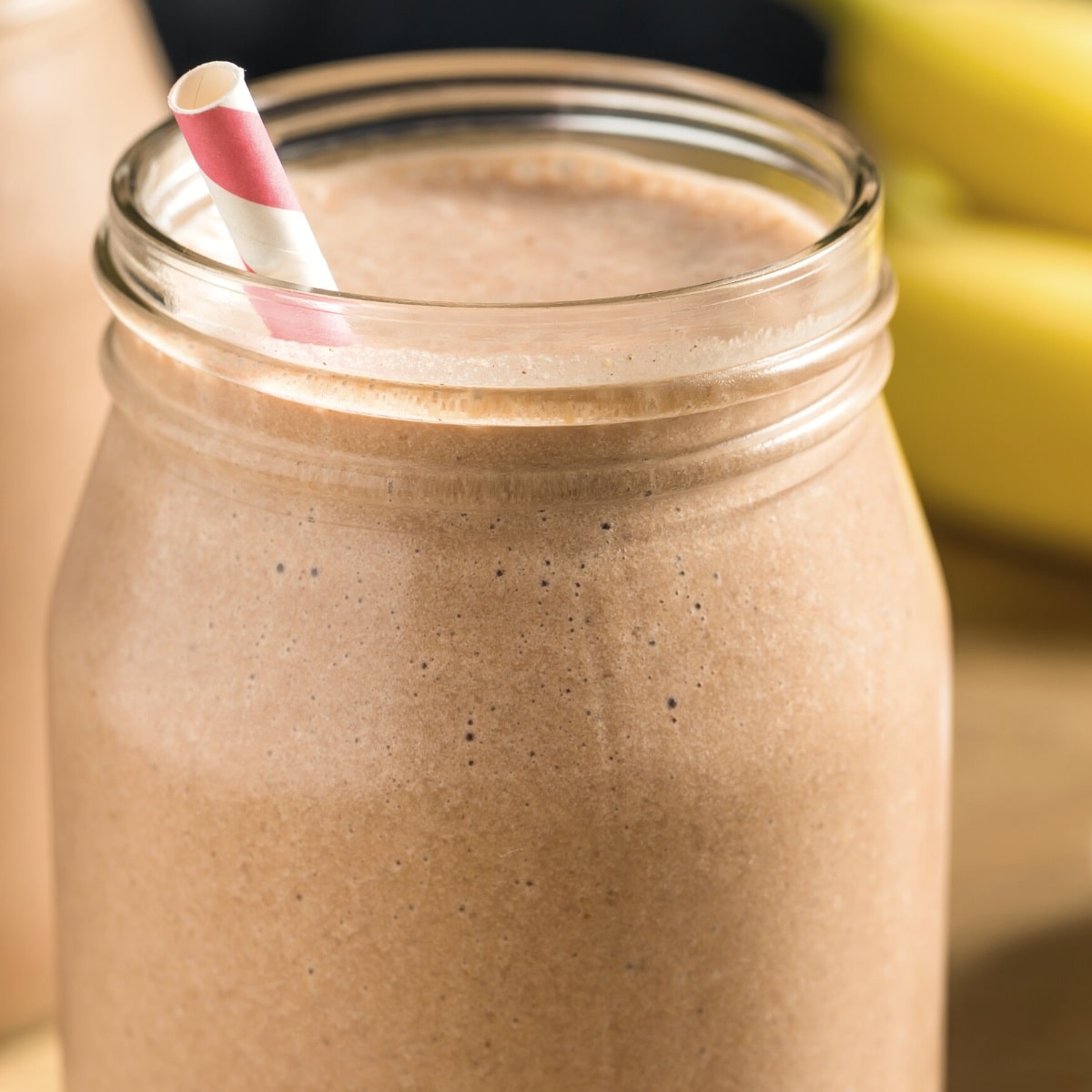 A smoothie recipe with avocado and dark chocolate, can it get any better than that?
Dive into a velvety blend of rich cocoa, creamy avocado, and sweet banana, complemented by the gentle embrace of spinach and the nutty hint of almond milk. Drizzled with honey, it's a sip of heaven in every glass.
Dark chocolate and avocado can work incredibly well together in one smoothie, especially in the morning as a breakfast substitute, setting you up for a productive and energetic day.
Ingredients:
1 whole avocado (pitted)
1 large banana (frozen or fresh)
2 tbsp cocoa powder (or raw cacao)
1 cup fresh spinach leaves
1 large cup milk (or almond milk, non-dairy milk)
1 tsp honey (optional)
1/2 cup ice cubes (optional)
4. Simple Avocado Smoothie

Let's continue this list of avocado smoothie recipes with the most straightforward one. This is a super simple recipe, and it contains the most basic ingredients. But don't let that fool you!
This one works best for when I just want a refreshing and creamy smoothie with very little fuss and preparation. I would make this smoothie during busy mornings when I hardly have time to sit down and eat, and it will fill me up for a few hours.
To prepare this delicious smoothie, simply put all the ingredients in a blender and mix until smooth. It is that simple. Love it.
You can find this simple avocado smoothie recipe over at Nutrition Stripped.
Ingredients:
1 cup full fat canned organic coconut milk
1 cup filtered water
1 avocado
1 cup ice
1 tsp maple syrup
pinch of sea salt
5. Avocado Seed Green Smoothie

Yes, you read that correctly. In this particular avocado smoothie recipe, we are also going to include the seed. Yikes!
The hard and bulky seeds in avocados are actually quite nutritious, and one of the easiest and quickest ways to consume an avocado pit is by adding them to smoothies. But you do need a strong blender that is able to crush an avocado pit, such as a Vitamix.
This avocado seed smoothie recipe is not only nutritious, but also surprisingly tasty, with spinach leaves, mint leaves, strawberries, and banana.
Ingredients:
1 avocado
1 avocado seed
2 cups baby spinach leaves
1 large banana
1 small cup fresh strawberries
2 mint leaves
1/2 lemon (or lime) (optional)
1 large cup water
1/2 cup ice cubes
6. Pineapple Avocado Green Smoothie

This pineapple and avocado green smoothie is delicious, nutritious, and energy-boosting from the first sip to the last.
The addition of avocado makes this smoothie creamy and velvety smooth, and while it may only have four ingredients (not counting water), it is perfectly balanced in sweetness.
The tangy-sweet pineapple chunks balance well with the creamy avocado. That combination of ingredients also masks the taste of spinach, and for those of us with finicky little eaters, that is a big deal!
You can find this pineapple avocado green smoothie recipe over at Natasha's Kitchen.
Ingredients:
1 cup water
1/2 medium ripe avocado (peeled and pitted)
2 cups spinach
2 cups frozen pineapple chunks
1-2 tbsp honey or agave (or to taste)
7. Apple Mint Avocado Smoothie

Is the summer season making you feel hot or sweaty this year? This recipe can make you feel refreshed after some heavy lifting or after a tiring day.
Experience a crisp splash of apple harmoniously mingling with creamy avocado with this tasty avocado smoothie recipe.
Infused with a whisper of vanilla and a zesty kick of mint, this smoothie dances on your palate, offering a refreshing sip of serenity with every swirl. Honestly, I had no idea it would turn out so tasty, but this drink has got my full seal of approval!
You can find this potent apple mint avocado smoothie recipe over at Neil's Healthy Meals.
Ingredients:
1 green apple (peeled, cored and chopped)
1 ripe avocado (peeled, cored and chopped)
8 fresh mint leaves (chopped)
1/4 tsp peppermint extract
1 tsp vanilla extract
400 ml almond milk
8. Cucumber Avocado Smoothie

Who said that all smoothies have to taste sweet? Even people without a sweet tooth can enjoy smoothies with the right mix of healthy ingredients.
This cucumber avocado smoothie recipe is even better when you already have an appreciation for cucumber. It's a guilt-free blend for when you want your taste buds to take a break from all those sweet drinks.
Try this smoothie when you need a great pick-me-up without the caffeine crash afterward. Trust me when I say that it really works!
You can find this cucumber avocado smoothie recipe over at Renee Nicole's Kitchen.
Ingredients:
1 small avocado
1/2 cucumber
1/2 cup cilantro
juice of 1 lime
pinch of pink himalayan salt
1/2 cup water
9. Avocado Strawberry Layered Smoothie

Here's where making smoothies gets even more interesting.
As its name suggests, this wholesome snack has colorful and beautiful layers that give off just the right amount of decadence and sweetness.
It feels great making something that looks interesting with its two pastel cream colors. The flavors are also amazing, as the avocado and strawberries complement each other nicely.
You can find this avocado strawberry layered smoothie recipe over at As Easy As Apple Pie.
Ingredients (strawberry part):
1/2 cup water
1 1/2 cup unthawed frozen strawberries
1 banana (frozen)
1/2 tablespoon honey
1 1/2 teaspoon lemon juice
Ingredients (avocado part):
1/3 cup unsweetened almond milk
1 1/2 cup chopped avocado
2 1/2 tbsp honey
1 tbsp lemon juice
1/3 cup ice cubes
1 tsp pure vanilla extract
Hopefully this list of tasty avocado smoothies has motivated you to start preparing more smoothies with avocado as a core ingredient.
For fast and easy smoothies, freeze some fruits in advance. Put one or two servings in a freezer bag to have them ready at any time. Avocados can be frozen, too. Dice them up and make sure to get as much air out of the bag before sealing it up.
You can either freeze different fruits separately or put one recipe's worth of fruits together in one bag.
If you'd like to add more recipes to your to-do list, check out the following smoothie recipe lists for ideas:
Happy blending!