I may earn a small commission from purchases made through product links on this website at no extra cost to you. As an Amazon Associate I earn from qualifying purchases.
Last updated: November 30, 2023
Reviews of seven of the best green smoothie blenders, based on features, price, manufacturer, performance, versatility, and more.
Using a blender regularly is the perfect way to get your whole fruits and vegetables in, simply by consuming delicious smoothies. I have been making and drinking smoothies consistently for many years, using various types of blenders in different price categories.
Looking to purchase an affordable blender but not sure which one to choose? In this article, I will share my seven favorite green smoothie blenders in different price categories. All of these products have been tried and tested by me, and I can vouch for them.
The best smoothie blender on the market is the Nutri Ninja Blender Duo, which offers the best mix of performance, features, and value for money.
5 pre-programmed settings
3 pre-programmed settings
72 oz container (+ 3 cups)
Top Pick
5 pre-programmed settings
72 oz container (+ 3 cups)
Second Choice
3 pre-programmed settings
Top 7 Smoothie Blenders:
Here are my seven recommendations for good quality, affordable blenders that can create delicious smoothies without issues. The pricing varies from affordable to mid-range and slightly more expensive.
If you're looking for a more powerful blender, read my guide to the best high-end blenders with reviews of high-quality products.
1. Nutri Ninja BL642 Blender Duo

The Nutri Ninja BL642 Blender Duo is an advanced smoothie blender that incorporates Auto-iQ technology to offer timed, intelligent blending programs. This feature allows for pulsing, blending, and pausing patterns that operate automatically, doing the work for you.
Unique to Ninja products, the Auto-iQ technology is designed to simplify the blending process. With the press of a single button, the Auto-iQ feature takes over and does the work for you, making this blender an intuitive and user-friendly choice.
Another key feature of this blender is its Nutri Ninja Pro Extractor Blades, designed to break down whole fruits, vegetables, ice, and seeds for nutrient and vitamin extraction. This results in smoother, richer blends packed with nutrients.
Additionally, the blender's blade assembly allows for efficient pulverizing of whole fruits and vegetables, enabling optimal nutrient and vitamin extraction. One of the advantages of this system is the ability to blend personalized smoothies and juices directly in the Nutri Ninja Cup. After blending, simply attach the Spout lids and enjoy your healthy drink on the go. All parts of the blender are BPA-free and dishwasher safe, ensuring safe and easy clean-up.
Performance-wise, this Ninja blender offers an impressive 1200 watts of power. That, combined with the control offered by the blender, results in consistently excellent blending results. Overall, this green smoothie blender is a highly affordable, feature-rich machine designed for convenience and efficiency.
Top features:
Powerful 1200 watts motor
Auto-iQ technology with 5 pre-programmed settings
72 oz max liquid container
Three Nutri Ninja cups (18 / 24 / 32 oz)
75 recipe cookbook
Digital timer
2. Breville BBL620 Fresh & Furious Blender

The Breville Fresh & Furious Blender is a powerful kitchen appliance that combines the functionality of a traditional blender with some food processing tasks, offering both versatility and convenience. It is designed to handle a range of tasks, from crushing and chopping ice to blending creamy smoothies and soups.
This blender features a blade design and a high-torque 1100-watt motor that deliver quiet and efficient blending performance. The blades are made of engineered surgical-grade stainless steel, ensuring they remain sharp for longer.
To make blending even more inviting and straightforward, the blender features illuminated pre-programmed buttons for Smoothie, Green Smoothie, and Ice Crush, ensuring the smoothest results with just one touch. The blender also has an LCD display, which counts up for speed settings and counts down for pre-programmed settings, giving users complete control over the blending process.
Also worth mentioning is its compatibility with the Vac Q vacuum pump. Using the Vac Q can improve the texture, colors, and flavors of your blends. For specific recipes, such as green smoothies, spreads, dips, and gazpacho soup, the vacuum pump can significantly enhance flavors and provide a creamier texture. In milk-based shakes, the Vac Q helps to whip air into the shake, creating a light and bubbly texture.
In summary, the Breville Fresh & Furious Blender is a multi-functional smoothie blender designed for versatility and convenience in the kitchen. Included are ten recipe cards for various creations, including ice lollies, marinades, smoothies, and dips.
Top features:
High torque 1100 watts motor
Stainless steel blades
50 oz BPA-free container
5 speed settings
Pre-programmed buttons
3. Vitamix A2300 Ascent Series Smart Blender

The Vitamix A2300 Ascent Series Smart Blender is an innovative kitchen appliance designed to deliver precision blending and enhance user convenience.
One of the main features of the A2300 blender is the Variable Speed Control, allowing users to easily adjust the texture of their blends. This fine-tuning capability ensures that every dish comes out just as desired.
The blender also includes a pulse feature, which is especially useful for heartier recipes, such as chunky pasta sauce or thick vegetable soups, offering a versatility that can cater to a wide variety of culinary needs.
Another standout feature of the A2300 is its built-in wireless connectivity. The motor base automatically adjusts the maximum blending times according to your chosen container size, ensuring optimal performance every time.
The blender comes with a digital timer, removing the guesswork from manual recipes and helping users achieve the perfect texture every time. This feature ensures consistency in your blends, especially when following specific recipes.
The A2300 is also compatible with any Self-Detect Containers from Vitamix, enabling users to build a customized blending system to fit their needs. This feature adds to the versatility and convenience of the blender, making it a handy tool for any kitchen.
Top features:
Low-Profile 64-ounce container
Variable Speed Control
Digital timer
Self-Detect Technology
Touch Interface
2.2-peak HP motor
Low-Profile tamper included
4. Ninja Professional Blender 1000

The low-priced Ninja Professional Blender 1000 strikes the near-perfect balance between reliability and affordability. And while not crucial, I do also like the looks of this blender.
The Ninja Professional Blender 1000 is equipped with a reasonably powerful 1,000-watt motor and Total Crushing blades that easily pulverize and crush ice, fruits, and vegetables in a matter of moments.
The generous size of the 72 oz BPA-free container is ideal for larger batches of green smoothies and other creamy frozen drinks. What's also important is that, despite the large size of the container, this Ninja model has a relatively low-profile design so that it fits under most cabinets on the countertop.
This blender occupies the third spot on this list of best smoothie blenders because it is an incredibly affordable machine. It may not be the best blender, but it's perfect for those who want to start experimenting with blending and making smoothies.
Top features:
Powerful 1000 watts motor
Total Crushing Technology
72 oz container
Speed settings + pulse
5. Cleanblend High Performance Blender

You will notice the striking resemblance with the older-style Vitamix blenders straight away, especially with the tamper that comes with it and the three buttons at the front. But that's probably exactly what the Cleanblend is meant to be: a more affordable version of a Vitamix blender.
Whether it's the same value for money, I'm not sure, but the reviews for this model say that it's a pretty reliable machine. The Cleanblend has a variable speed control button (which I find super helpful) and has an easy self-cleaning procedure.
The high-end, stainless steel 8-blade system is able to pulverize and liquefy harder ingredients, such as ice, and tougher vegetables, such as kale, quite well. The 3-horsepower, 1800-watt motor takes care of that blending work without much hassle.
My take on this machine is that it's a decent substitute for a Vitamix blender, but perhaps not with the same performance level and longevity. Given its affordable price tag, this is an excellent beginner smoothie blender.
Top features:
64 oz BPA-free container
Variable Speed Control
Includes tamper
5-year warranty
3 Horsepower / 1800-Watt motor
6. Ninja BL770 Mega Kitchen Blender System

Okay, I'm cheating a little with this blender because the Ninja BL770 Mega Kitchen Blender System is actually a blender and food processor combo.
It works surprisingly well as both a blender for smoothies and as a food processor for chopped veggies, dips, and even dough. It's excellent value for money if you'd like to do some food processing as well, in addition to blending green smoothies.
The Ninja Mega Kitchen System is equipped with the above-mentioned Total Crushing Technology, allowing you to pulverize and crush ice, fruits, and vegetables in a matter of seconds without any issues.
It includes a 72oz pitcher, an 8-cup processor bowl, and a few handy 16oz Nutri Ninja Cups with lids. While the pitcher is for your delicious green smoothies, the large processor is ready for all your chopping and dough-making needs.
Top features:
1500 watt motor
Pro Variable Speed (10 speeds) + pulse setting
72 oz blender pitcher
8 Cup food processor bowl
2 16oz Nutri Ninja Cups
7. Blendtec Total Blender Classic

Founded in 1975, Blendtec specializes in manufacturing professional and home blenders, proudly designed and engineered in the USA.
The Blendtec Total Blender Classic is a reliable and popular choice among blending enthusiasts at home. It is equipped with a robust 1560-watt motor, offering ample power for various blending tasks. It also features fully sealed, push-button controls for ease of use and durability.
One of the standout features is its preprogrammed cycles, including smoothies, batters, hot soups, whole juices, and ice cream. These preset programs, powered by Blendtec's exclusive blend cycle technology, allow users to create perfect blends at the touch of a button, simplifying the blending process and reducing guesswork.
The blender also offers 10 speeds plus a pulse function, giving users ultimate control over the blending process to achieve the desired texture and consistency. An illuminated LCD timer is another handy feature, displaying the remaining time on blends, which allows for precise blending.
Overall, the Blendtec Total Blender Classic is a powerful, versatile blender that combines professional-grade features with user-friendly functionality.
Top features:
1560 watt motor
BPA-free Wildside+ 90oz jar
Illuminated one-touch push-button interface
6 Pre-programmed blend cycles
10 Speeds + pulse setting
Are you ready to take the plunge and buy a new green smoothie blender? The above blenders are all of decent quality, are pretty versatile, and can create the creamiest green smoothies without hassle.
Having one of those blenders on your kitchen countertop, as I have for many years, makes it a lot easier to get all those essential nutrients in on a regular basis.
Blending vs Juicing
While I also have a good juicer in my kitchen that I use quite often, I still prefer to blend my greens simply because it gives me more value for money. A juicer extracts juice from fruits and vegetables and leaves pulp behind.
A blender, on the other hand, leaves no pulp behind and basically gives you a complete meal. The pulp includes the skin of fruits and vegetables, which is often a great source of fiber and other essential nutrients.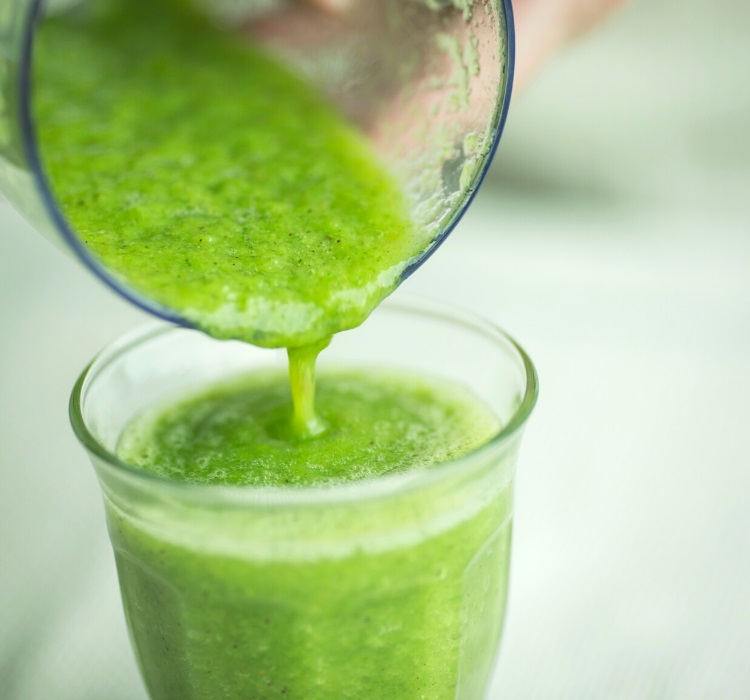 Blending is one of the easiest and quickest ways to get a great variety of nutrients in. Literally within 5 minutes and with minimal effort, you can prepare yourself a tasty green smoothie with a great variety of nutrients.
Read more about the differences between blending and juicing, so you can decide for yourself which you prefer.
Price and Performance
If you want to be serious about blending, I would recommend staying away from blenders under $80, such as the cheaper Nutribullet models.
They work fine for a while, but their shortcomings (not much power, not very durable, poor smoothie quality, etc.) eventually lead to frustration and disappointment. As with anything, you get what you pay for.
Best value blender for making smoothies:
Sale

Nutri Ninja BL642 Blender Duo
PROFESSIONAL POWER: 1200-watt motor powers through the toughest ingredients and...
TOTAL CRUSHING: The rustproof Pro Extractor Blades break down whole fruits,...
AUTO-IQ TECHNOLOGY: Take the guesswork out of drink making with intelligent...
At the other end of the spectrum, Vitamix and Blendtec blenders are top-quality machines but expensive. If you're looking for an affordable blender that performs well and will last several years, it's best to look for one that sits between a $100 blender and a high-end Vitamix blender.
The above list of best affordable smoothie blenders, however, does include the Vitamix Ascent A2300 and the Blendtec Total Blender Classic. These are two of the more affordable blenders in the Vitamix and Blendtec product ranges and are excellent green smoothie blenders.
Further Reading
Keen to try out smoothie recipes?
Check out these delicious breakfast smoothie recipes, or these nutritious kale smoothies for some inspiration. The fun with blending is that you can keep experimenting with new ingredients and see what works and what doesn't work for you.
I often add turmeric and chia seeds to my green smoothies, just to name a few extra ingredients. Don't forget to check out my tips to blend the perfect smoothie consistently so you always get the best results.
Happy blending!