Best Blenders for Green Smoothies – A 2017 Blender Buying Guide
Blending vegetables and fruits is the perfect way to get your vital nutrients in and improve your overall health. I have been making and drinking green smoothies consistently for many years now and I can honestly say that this lifestyle change has had a massive impact on my health and well-being.
I've used several different types of blenders over the years, but the Vitamix 5200 is still my absolute favorite. This machine can literally blend anything into a healthy creamy drink, extracting all the healthy nutrients from my favorite ingredients. My second favorite brand for blenders is Blendtec whose blenders are just as powerful and durable as Vitamix blenders.
Are you looking to invest in a new quality blender but not sure which one to choose? Read on as I share with you my recommendations for best blenders for green smoothies, categorized by Vitamix, Blendtec and alternative, more affordable blenders. Let's kick off with my 3 favorite blenders per category, based on price/value, durability, performance and ease-of-use.
Blending vs Juicing
While I also have a good juicer in my kitchen that I use quite often, I still prefer to blend my greens, simply because it gives me more value for money. A juicer extracts juice from fruits and vegetables and leaves pulp behind. A blender on the other hand leaves no pulp behind and basically gives you a complete meal.
Blending is one of the easiest and quickest ways to get a great variety of nutrients in. Literally within 5 minutes and with very little effort you can prepare yourself a nutritious green smoothie with a great variety of nutrients.
Blender Buying Guide - Quick Navigation
What Type of Blender Should You Get?
If you want to be serious about blending, I would recommend to stay away from blenders under $100, such as various budget Ninja or Nutribullet models. They work fine for a while but their shortcomings (not much power, not very durable, poor quality of smoothie, etc.) will eventually lead to frustration and disappointment. As with anything, you get what you pay for.
One important thing to point out is that more horsepower doesn't always mean better performance in a blender. Vitamix blenders, for example don't typically have the highest horsepower but they perform so well because they are exceptionally well designed.
The below list of blenders consists of top quality and powerful machines that make blending easy and fun to do. They are definitely not the cheapest, but they will last a lifetime and give you the best smoothie results. They are made with durability and performance in mind and most of these manufacturers, such as Vitamix and Blendtec, offer very generous warranty.
Best Vitamix Blender
Founded in the 1920's based on the concept of whole-food nutrition, Vitamix is a well-known manufacturer of high-performance blenders for consumers and for the hospitality and restaurant industry. Manufactured in the USA, Vitamix Blenders are famous for their powerful motors and laser-cut, stainless-steel blades that can produce the perfect blends.
The 7-year warranty that Vitamix offers on most of its blenders strengthens the confidence consumers can have in their blenders. It took me 6 months of thinking before I finally took the plunge and bought a Vitamix. In all honesty, this was probably the best financial investment in my health I have ever made. What's also great about Vitamix blenders is that they can clean themselves. Well, not literally of course, but cleaning a Vitamix container is as simple as using a drop of dish soap and warm water and let the blender do its magic.
The following models are my favorite Vitamix blenders considering price and performance.
1. Vitamix 5200 Series Standard
I purchased a Vitamix 5200 (Total Nutrition Center) about 5 years ago and it's still working as well as it did on its first run. It simply won't break. It can also prepare delicious soups because the blades can reach speeds that are fast enough to create heat, so you can have a nice warm bowl of soup literally within minutes. The generous size of the classic 64-ounce container is perfect for blending medium to large batches.
The 5200 is part of the Classic C-Series and is an excellent model to get started with blending. The Vitamix 5300 is almost exactly the same as the 5200 but it has a wider and lower jar which some may find more practical, especially for storing purposes.
Vitamix 5200 – Summary
Classic 64-ounce container
Variable Speed Control to give you complete control during the blending process
High/low controls for extra power
2-peak HP motor
Classic tamper included
BPA-free Eastman Tritan Copolyester used
7-Year full warranty
2. Vitamix TurboBlend Two Speed
Just like the 5200, The TurboBlend Two Speed is part of the popular Classic C-Series, but is priced slightly lower than the 5200. The key difference is that the TurboBlend doesn't have the variable speed control option (the middle button is missing). I personally use the variable speed control a lot (also with cleaning) but you can still make perfect green smoothies with just the high/low ("two speed") option.
Vitamix TurboBlend Two Speed – Summary
Classic 64-ounce container
High/low controls for extra power
2-peak HP motor
Classic tamper included
BPA-free Eastman Tritan Copolyester used
7-Year full warranty
3. Vitamix Professional Series 750
Two things set the Vitamix Professional series 750 apart from the TwoSpeed and the 5200: A quieter motor and pre-programmed settings. The 750 has a 2.2-peak horsepower motor with advanced technology that makes them noticeably quieter. It also comes with 5 handy pre-programmed settings for smoothies, soups, desserts, purées and cleaning.
The other extra feature is pulse control which gives you even more control over the texture of your dish. For example, by flipping it on you can quickly chop ingredients before blending on a consistent speed.
The 750 is part of the newer G-Series, or Next Generation Vitamix Blenders, with more powerful motors and improved design. Their 64-oz. containers are also wider (Low Profile) so it's easier to store them. The G-Series are currently the most advanced models which means they are also more expensive.
The 750 is an amazing machine but if you're just starting out with blending I would still recommend the 5200 Series. The 7500 is very similar to the 750 but doesn't have the pre-programmed settings and is therefore slightly cheaper priced.
Vitamix Professional Series 750 – Summary
Low-Profile 64-ounce container
Variable Speed Control
High/low controls for extra power
5 Pre-programmed settings
Pulse Control
2.2-peak HP motor
Low-Profile tamper included
BPA-free Eastman Tritan copolyester used
7-Year full warranty
Reconditioned Vitamix Blenders
Vitamix offers reconditioned blenders, models that have been used for testing or have been returned for various reasons. These models are certified reconditioned, meaning they have been thoroughly inspected and repaired or restored where necessary to make them look and work like brand new. A Vitamix certified reconditioned blender is significantly cheaper than a brand new one and comes with a 5-year full warranty.
Have a look at the range of reconditioned Vitamix blenders available on Amazon.
Best Blendtec Blender
Founded in 1975, Blendtec specializes in manufacturing professional and home blenders. All Blendtec blenders are proudly designed and engineered in the USA and come with 8-year warranty.
I bought a Blendtec Total Blender Classic WildSide as a wedding gift for a friend around a year after I bought my Vitamix 5200. My friend and I have been happily blending ever since with both the Vitamix and Blendtec performing incredibly well. It's hard to pick between the two brands and it would ultimately come down to personal preference for design. If anything, I find the Blendtec to be a touch nosier than the Vitamix, but on the other hand Blendtec blenders are generally slightly cheaper.
One big difference between the two is that – unlike Blendtec – all Vitamix blenders come with a tamper that you can use to push ingredients down into the blades while blending. This is useful when ingredients get caught in the pitcher. This typically happens when using less water in order to create thicker smoothies. Maybe Blendtec blenders are so well designed that a tamper isn't necessary? Who knows. Fact is though that the the pitcher and blades in Blendtec blenders are designed differently.
If you haven't already seen one of them, the Blendtec "Will it blend" videos on YouTube are very entertaining. Here's one of these videos starring the Blendtec CEO Tom Dickson himself (do not try this at home!):
The following models are my recommended Blendtec blenders.
4. Blendtec Classic 575
Blendtec's base model, the Classic 575, is excellent value for money. Similar to the Vitamix 5200, the 575 is the perfect blender for those just starting out with blending. The 575 is well equipped with 5 different speed settings and a pulse feature that works the same as with the Vitamix 750. The pre-programmed cycles for smoothies, cleaning and 60- and 90-second blends are also very useful. The FourSide jar can contain up to 64 ounces of liquid (the WildSide jars are bigger – see below).
Blendtec Classic 575 – Summary
64 oz. BPA-free FourSide jar/container
Touchpad interface and illuminated LCD timer
5 incremental speeds + pulse setting
Pre-programmed cycles for smoothies and cleaning
3.0 peak horsepower motor
8-Year full warranty
5. Blendtec Designer 625
The Designer 625 is slightly more advanced than the basic 575 model and I personally believe the extra features are worth the extra investment. The 625 comes with an illuminated touch interface (not only looks really cool but is also useful), 6 incremental speeds (controlled with a slider) and a bigger WildSide jar. The 4 pre-programmed settings let you prepare smoothies, ice creams, whole juices and soups with a touch of a button.
Blendtec Designer 625 – Summary
88 oz. BPA-free WildSide jar/container
Illuminated touch interface
6 incremental speeds + pulse setting
Pre-programmed cycles for smoothies and cleaning
3.0 peak horsepower motor
8-Year full warranty
6. Blendtec Designer 725
While the Designer 725 is not the most advanced Blendtec blender available, this model is definitely a step up compared to the 625, but also more expensive. The powerful 3.8 (peak) horsepower motor combined with SmartBlend technology and a 100-speed touch slider makes the 725 a highly advanced blender. What's also really cool is that you can easily add segments of 10 seconds to any blend cycle with a simple tap.
Blendtec Designer 725 – Summary
BPA-free FourSide jar/container
Illuminated touch interface + remaining blend time indicator
100-Speed touch slider + multi-speed pulse setting
6 Pre-programmed custom cycles
3.8 peak horsepower motor
8-Year full warranty
Refurbished Blendtec Blenders
Just like Vitamix, Blendtec also offers refurbished models that are discounted but are still top quality. Each Blendtec blender that is sold as certified refurbished comes with a full 7-year warranty on both base and jar.
Have a look at the range of refurbished Blendtec blenders available on Amazon.
Best Alternative Top Rated Blender
If you still feel that Vitamix and Blendtec blenders are above your budget, there are certainly cheaper blenders available that can still prepare good smoothies for you. As I mentioned above though, I really don't recommend going too cheap with a blender as this will cost you more in the long run.
The following blender models are priced slightly lower than Vitamix and Blendtec blenders but are still a good investment.
7. Cleanblend High Performance Blender
You will notice the striking resemblance with any Vitamix blender straight away, especially with the tamper that comes with it and the three buttons at the front. But that's probably exactly what the Cleanblend is meant to be, a more affordable version of a Vitamix blender. Whether it's the same value for money, I'm not sure, but the reviews for this model say that it's a pretty reliable machine. Just like the Vitamix 5200, the Cleanblend has a variable speed control button (which I find super useful) and has an easy self-cleaning procedure.
My take on this machine is that it's a great substitute for the Vitamix 5200 but perhaps not with the same longevity. There are no certified refurbished versions available for this model.
Cleanblend High Performance Blender – Summary
64 oz. BPA-free container
Variable Speed Control
Includes tamper
5-year warranty
3 Horsepower / 1800-Watt motor
8. Ninja Mega Kitchen System
Ninja has a lot of cheap blender models on the market that are actually quite popular. I had one too at some point and was reasonably happy with it. But as much as I dislike overspending on kitchen equipment, a cheaper blender model simply doesn't meet my standards. The quality of the smoothies I get out of my Vitamix is just not comparable to what a cheap blender can deliver.
The Ninja Mega Kitchen System however, is more affordable than a refurbished Blendtec or Vitamix blender, and looking at its features and positive reviews, this model looks like a good alternative if your budget is a bit smaller. This machine is equipped with the so-called Total Crushing Technology, allowing you to pulverize and crush ice, fruits and vegetables in a matter of seconds. It doesn't just do green smoothies, you can also use this Ninja model to prepare sauces, dips and other creamy liquids.
The Ninja Mega Kitchen System includes a 72oz. pitcher, an 8 cup processor bowl and a couple of handy 16oz Nutri Ninja Cups with lids. While the pitcher is for your delicious green smoothies, the huge processor is ready for all your chopping and dough making needs.
Ninja Mega Kitchen System – Summary
1500 watt motor
Pro Variable Speed (10 speeds) + pulse setting
72 oz. blender pitcher
8 Cup food processor bowl
2 16oz Nutri Ninja Cups
9. BlendWorks All-In-One Blender
Introduced in 2016, the BlendWorks All-In-One Blender is the new kid on the block in the world of blenders. Designed with value and convenience in mind, the purpose this blender set is to improve and simplify the home blending process. Similar to the Ninja Mega Kitchen System, BlendWorks not only lets you create delicious smoothies without hassle, it can also easily prepare soups, dips and sauces. You can do all this with the very same BPA-free 70oz/2L jar, hence the name "all-in-one". The decent 2.0 peak-horsepower motor provides 1500 watts performance at 30,000 RPM, more than good enough to create well-blended, creamy green smoothies.
The key difference between this model and for example the Vitamx and Blendtec models is that the BlendWorks has 6-way stainless steel blades, designed to better pulverize the goodies you put into the jar. The 6 blades look a but weird, almost like it's a bit of an overkill, but according to its reviews this machine does a fine job at blending. It may also be a bit harder to clean the blades I would imagine.
What's included in this blender set? It comes with a decent-sized 70oz plastic jug with measurement lines, a 20oz travel cup on-the-go, a tamper to assist with bulky ingredients and a handy silicone spatula to better empty the jug after blending. It's a decent blender set at an affordable price, but I would still prefer a (refurbished) Vitamix or Blendtec product. The fact that new models often look very much like the classic Vitamix blender models says a lot about the popularity and quality of Vitamix.
BlendWorks All-In-One Blender – Summary
2 horsepower / 1500-watt motor
Liquify and pulse setting
70 oz. blender pitcher
20 oz. cup on-the-go with lid
2 16oz Nutri Ninja Cups
10. Hamilton Beach Professional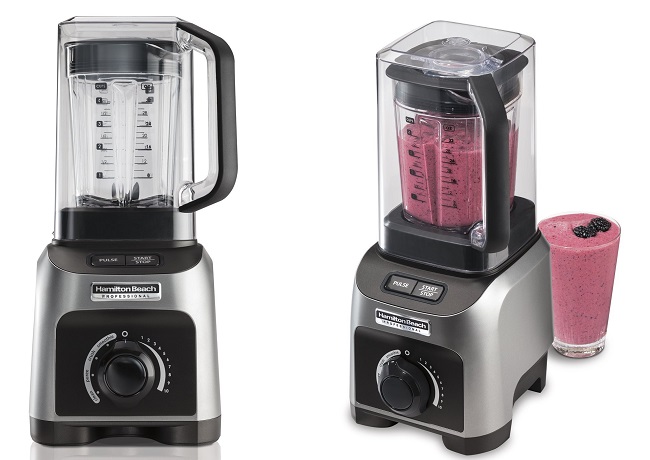 This model in Hamilton Beach Professional series is the most affordable blender in this list of 10 best blenders for green smoothies, and is an excellent machine for those just starting out with blending. The financial investment is relatively small for this simple yet reliable and powerful blender. The Hamilton Beach Professional series has three models, two with a 2.4HP / 1800 watt motor and this particular one with a 2HP / 1500 watt motor. The price difference is quite significant and the 1500 watt motor does an excellent enough job.
This model blender is the only blender in this list that has a removable sound enclosure that you can place on top of the container while operating. Pretty cool, and together with the rubber-mounted components, the noise is nicely dampened while blending. The shield can in fact also be used as a extra serving pitcher.
With a simple twist button, you can choose between four pre-programmed settings to eliminate guesswork: smoothie, ice crush, puree and clean. The cleaning option is awesome as it makes cleaning the container a breeze, just like with the Vitamix containers. You can simply let the blender do its job, and it will stop automatically at the end of the program. The variable speed dial gives you full control during the blending process, and the pulse function can be used to achieve the ideal texture when mixing and chopping.
The main drawback of this blender is the smaller 32oz container. A larger 64oz jar is definitely very useful because it allows you to prepare big batches of green goodness in one go. But at this price setting, a smaller container is perfectly acceptable. It also includes a handy tamper to push ingredients further down into the jar if things get clogged up, which can happen with any blender.
Hamilton Beach Professional – Summary
2 horsepower / 1500-watt motor
Liquify and pulse setting
70 oz. blender pitcher
20 oz. cup on-the-go with lid
2 16oz Nutri Ninja Cups
Did You Find Your Best Blender for Green Smoothies?
Are you ready to take the plunge and make green smoothies an important part of your lifestyle like I did a few years ago? The above blenders are certainly not cheap but they are a great investment for your health. They are designed and built to last and are able to prepare the best green smoothies for you and your family.
Blending has changed my life for the better and I can't imagine going back to where I was before I started making green smoothies. Getting all these nutrients in on a regular basis has done wonders to my health. I feel more energized, my skin looks a lot better, and it has also boosted my confidence.
Further Reading
Make a habit of blending and experience yourself how this can change your life in so many ways. Have a look at some of my green smoothie recipes to get started. My favorite recipe? Check out these green tea smoothie recipes, absolutely delicious and super healthy. The fun with blending is that you can keep experimenting with new ingredients and see what works and what doesn't work for you. I often turmeric, egg shells and chia seeds to my green smoothies, just to name a few exciting ingredients.
If you have any questions about any of these blender models or about blending and green smoothies in general, please don't hesitate to get in touch. I am very passionate about blending and love to connect with other green smoothie fanatics.
Happy blending!