I may earn a small commission from purchases made through product links on this website at no extra cost to you. As an Amazon Associate I earn from qualifying purchases.
Last updated: August 30, 2023
Six recipes for delicious and energizing breakfast smoothies to help kickstart your day, with lots of nutrients and flavors to take in.
Most of us rely on that much-desired cup of coffee first thing in the morning to start the day and to get us going. And I'll be honest, I do too!
A good alternative is an energizing breakfast smoothie with all the right ingredients and nutrients to give you a long-lasting energy boost.
The problem with coffee is that the buzz you get from it doesn't last very long. And once it's gone, your body and mind are desperate for another caffeine fix.
Replacing coffee with a nutritious and filling smoothie may not be easy, but you will be able to get used to it rather quickly. And before you know it, you will start craving that cold drink when you wake up in the morning.
6 Breakfast Smoothie Recipes
Here are six recipe ideas for delicious and nutritious breakfast smoothies.
They will wake you up in an instant and provide you with lots of energy and nutrients that your body will thank you for.
1. Kale Pineapple Breakfast Smoothie

Creating a filling and nutritious breakfast smoothie that also tastes amazing can be quite a bit of a challenge.
Erin over at Well Plated has found the perfect balance between flavors and nutrients with this kale and pineapple breakfast smoothie.
If the thought of consuming kale in the morning gives you shivers, this flavorsome smoothie will instantly remove your fears. The pineapple, banana, and honey will make you forget that kale is even in there.
If that's not enough, the peanut butter and Greek yogurt provide you with the necessary protein your body needs, especially in the morning.
Ingredients:
2 cups chopped kale leaves
3/4 cup unsweetened vanilla almond milk
1 medium-sized banana (frozen)
1/4 cup pineapple pieces (frozen)
2 tbsp peanut butter
1 to 3 tsp honey
2. Energizing Peach Spinach Breakfast Smoothie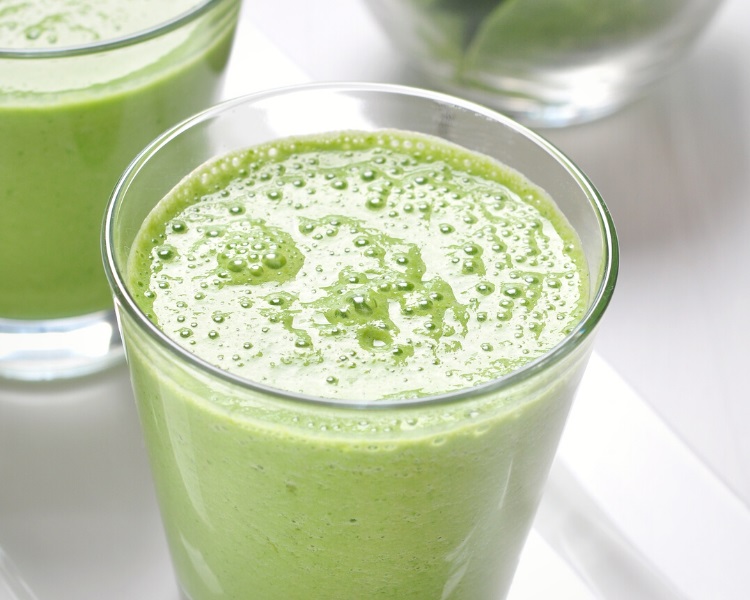 Peaches and nectarines are among my favorite fruits to eat during the warmer summer months.
It's the unique texture, in combination with the refreshing flavors of peaches, that just makes me want to eat them all day.
This is also the reason why I enjoy adding peach slices to smoothie recipes. This particular peach spinach smoothie with banana, honey, and unsweetened almond milk tastes delicious and works well as a breakfast smoothie.
The small teaspoon of honey adds that little bit of sweetness that is so nice when drinking this as a breakfast green smoothie. The almonds are entirely optional, but because I enjoy making this smoothie in the morning, it's good to add a handful of almonds for that extra punch.
Ingredients:
1 large cup fresh spinach leaves
1 large cup peach slices (fresh or frozen)
1 small banana
1 tsp honey
1 cup unsweetened almond milk
1 small handful of almonds (optional)
1/2 cup ice cubes (optional)
3. Berry Oat Breakfast Smoothie

If you like a bit more fruitiness in the morning, this berry oat breakfast smoothie will most certainly please your taste buds.
Tiffany at Creme De La Crumb is treating us to a delightful smoothie that has all the right flavors and nutrients to wake you up in the morning.
For this smoothie, you can use a combination of blueberries, raspberries, and blackberries, or you can simply pick one. The added honey creates that extra sweetness we all crave at times in the morning.
Ingredients:
1/2 cup rolled oats
1 cup milk
1/2 cup berries (frozen)
3 tbsp honey
1/3 cup vanilla yogurt or Greek yogurt
1/4 cup ice
4. Blueberry Spinach Breakfast Smoothie

If you do need that instant energy boost in the morning, this delicious blueberry spinach breakfast smoothie is not going to disappoint.
The combination of blueberries, spinach, and bananas offers all the right flavors and nutrients, which you can further enhance by adding a bit of mint, ginger, and lemon juice.
I do enjoy adding these extra ingredients, just to create that extra zing while also enjoying the powerful benefits they offer.
Ingredients:
1 large cup fresh or frozen blueberries
1 cup fresh spinach leaves
1 large banana
1 leaf fresh mint (optional)
1 tbsp lemon juice (optional)
1 tbsp fresh minced ginger (optional)
1 tbsp flax seeds (optional)
5. Keto Avocado Smoothie with Coconut Milk

Perfect for those on a low-carb keto diet, this nutritious breakfast smoothie contains three of my favorite green smoothie ingredients: avocado, ginger, and turmeric.
Created by Kim from Low Carb Maven, this nutritious and filling avocado smoothie with coconut milk is low in sugar but still tastes great.
Loaded with healthy fats, vitamins, minerals, and other goodies, your body will be very grateful when you drink this in the morning.
Ingredients:
1/2 avocado
3/4 cup coconut milk
1/4 cup almond milk
1/2 tsp turmeric
1 tsp fresh grated ginger
1 tsp lemon or lime juice
6. Dragon Fruit and Blueberry Breakfast Smoothie

Did I save the best for last? One of my absolute favorite tropical fruits is dragon fruit. The flavors, the texture, dragon fruit just ticks all the boxes for me.
This particular dragon fruit smoothie recipe with blueberry is an absolute blessing. It's got all the right flavors and works best in the morning or on a hot summer's day.
Nutrition-wise, this smoothie has a lot to offer, too. But I don't consider this smoothie to be as nutritious as most of the other smoothies on this list, only because it doesn't include any greens.
I wanted to preserve the flavors of the dragon fruit, so I'm skipping the vegetables in this one. But that's okay because it's a super delicious smoothie, one that you wouldn't necessarily drink every day.
Ingredients:
1 whole dragon fruit (fresh)
1 small cup blueberries
1 banana (fresh or frozen)
1 tsp grated ginger
1 cup unsweetened almond milk
1 mint leaf (garnish, optional)
Hopefully this list of breakfast smoothie recipes has given you some great ideas for your early morning routine.
Keen on even more smoothie recipes? Check out the following resources:
Happy blending!