I may earn a small commission from purchases made through product links on this website at no extra cost to you. As an Amazon Associate I earn from qualifying purchases.
Last updated: May 1, 2023
One of my absolute favorite tropical fruits is dragon fruit. The flavors, the texture, dragon fruit just ticks all the boxes for me.
Dragon fruit can be hard to find, but I'm lucky to live near a grocery store that often sells exotic treats such as dragon fruit. Sometimes I buy them in bulk so I can share them with others, but also to blend them in smoothies.
This particular dragon fruit smoothie recipe with blueberry is my favorite. It's got all the right flavors and works best in the morning or on a warm day.
Please find the printable version of this recipe further below.
Dragon Fruit Smoothie Ingredients
Let's have a closer look at all the goodness that goes into this energizing and refreshing drink.
Ingredients:
1 whole dragon fruit (fresh)
1 small cup blueberries
1 banana (fresh or frozen)
1 tsp grated ginger
1 cup unsweetened almond milk
1 small cup ice cubes
1 small cup Greek yogurt
1 mint leaf (garnish, optional)
Why Dragon Fruit?
Also known as pitaya, dragon fruit is a tropical fruit from a group of cactus plants that goes by the botanical name of Hylocereus.
Dragon fruit is native to South America, Central America, and Mexico, and it's now also grown extensively in Asian regions such as Thailand, Cambodia, the Philippines, and Vietnam. The fruit has a delicious and mildly sweet taste but a somewhat short shelf life.
The flesh of dragon fruit can be either red or white and has a texture similar to that of kiwi fruit. For this particular smoothie recipe, I've used dragon fruit with white flesh.

I find dragon fruit super refreshing and tasty, which is why I prefer not to mix it with vegetables when I blend it. I really don't want the flavors of the fruit to disappear in my smoothie!
Unfortunately, dragon fruit can be pretty hard to find. But I'm lucky, as I can often find them in a specialty grocery store not too far away from where I live. You can also try Asian grocery stores or large fruit and vegetable markets.
Read my guide explaining how to eat dragon fruit with lots of tips on preparing, eating, serving, and storing dragon fruits.
More Nutritional Goodness
Who doesn't love blueberries? I could eat blueberries in the morning, as a lunch snack, and for dessert after dinner!
Blueberries are particularly rich in anthocyanin, a flavonoid with potent antioxidant capacity which helps us to stay healthy.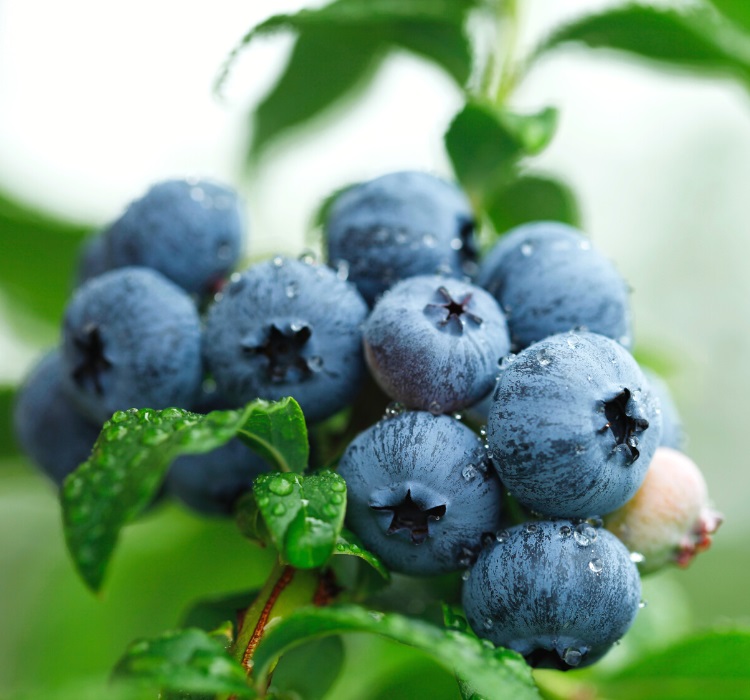 I am also adding a banana to this smoothie, which is a bit of a habit. Bananas always work well in smoothies, particularly with vegetables such as spinach and kale. But even without those veggies, I still like to add just one banana for extra flavor.
The ginger is optional, but it's one of those extra smoothie add-ins that I often include, not just for flavors but also for the extra nutrients.
The mint and Greek yogurt are also optional, but both these ingredients are great for additional flavors.
This dragon fruit smoothie is an absolute treat. It's one of those super tasty and special smoothies you'd only prepare a few times a year. Dragon fruit can be hard to find, and it's also not the cheapest fruit available.
I'm not a fan of the frozen dragon fruit packs you can buy online because fresh dragon fruit is much better. Those packs just don't taste like the real thing.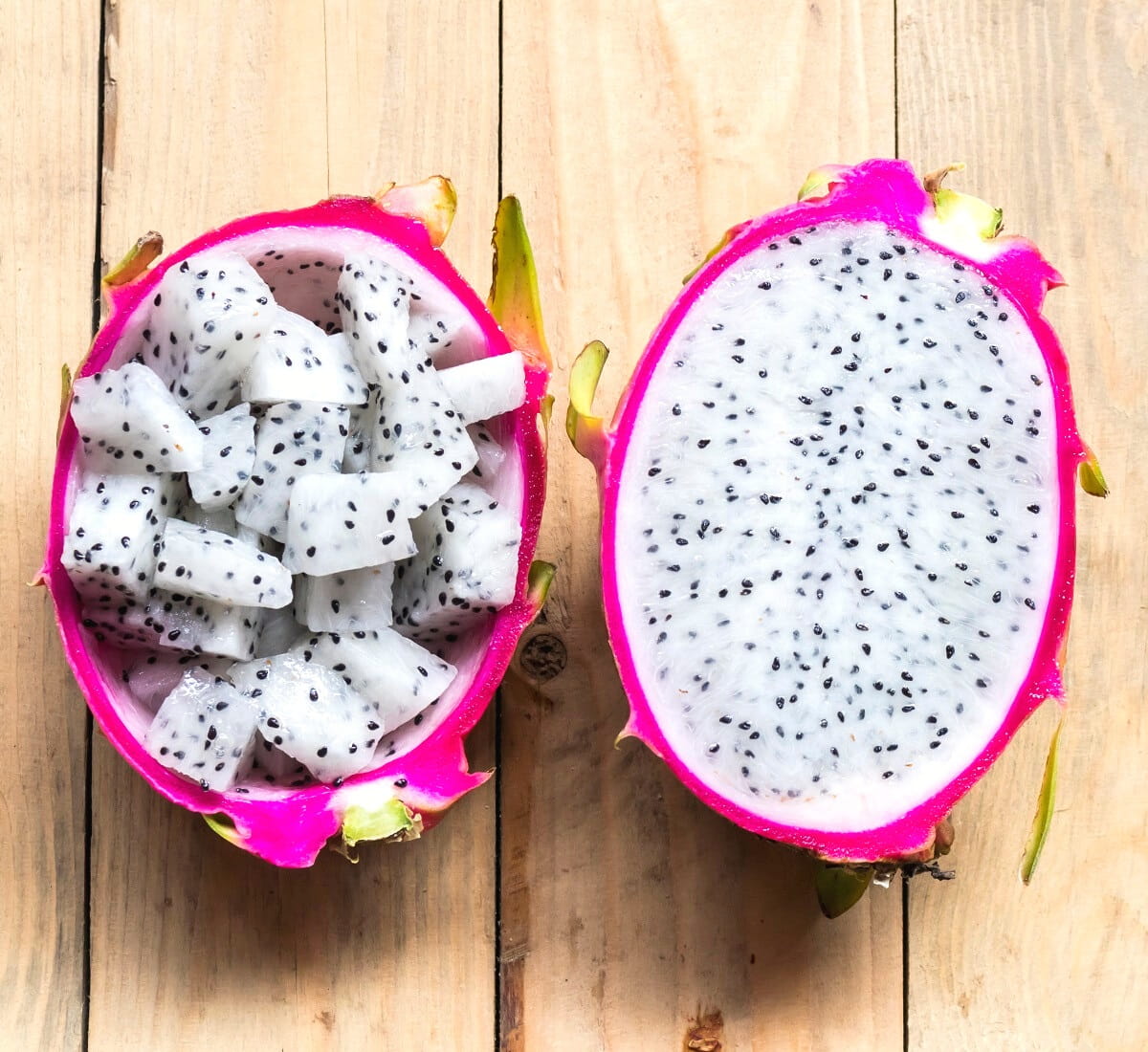 That said, if fresh dragon fruit is nowhere to be found in your area, a frozen dragon fruit pack might be a good alternative.
Nutrition-wise, this smoothie has a lot to offer too. But I don't consider this recipe to be as nutritious as most of my other recipes because it doesn't contain any greens. But the flavors? Yum!
Because of the high fruit content, I love drinking this smoothie in the morning, as a delicious breakfast smoothie, to get me energized straight off the bat.
Are you thinking of buying a new quality blender?
Have a look at my list of recommended smoothie blenders.
Dragon Fruit Blueberry Smoothie Recipe
An energizing dragon fruit smoothie recipe, with blueberries, banana and ginger, perfect for in the morning or on a warm day.
Ingredients
1

whole

dragon fruit

1

small cup

blueberries

1

banana

(fresh or frozen)

1

tsp

grated ginger

1

cup

unsweetened almond milk

1

small cup

ice cubes

1

mint leaf

(garnish, optional)

1

small cup

Greek yogurt

(optional)
Instructions
Add all ingredients to the blender in this order: banana, dragon fruit, blueberries, ginger, almond milk and ice cubes.


Blend at low speed for 30 seconds, followed by 30 seconds at high speed.


Add some mint on top as decorative garnish, and ready to serve!