Please note that I may earn a small commission from purchases made through product links in this article at no extra cost to you. As an Amazon Associate I earn from qualifying purchases.
Last updated: August 9, 2021
While meat is typically high in protein, there are in fact also lots of vegetarian and also vegan protein sources to consider.
And smoothies are an excellent way to get that extra protein in, sourced from vegetables and other non-meat foods.
Keen to give this a try?
In this article I am sharing 6 of my favorite high-protein smoothie recipes that are not only powerful and nutritious, but also taste delicious and rewarding.
How to Add More Protein to Smoothies?
Protein is an essential nutrient that functions as a building block of body tissue. It can be found in every cell throughout the whole body, including our muscles, bones, skin and hair. Without protein, our body would simply not be able to even exist.
When you're doing a lot of physical labor, or when you're on a strict exercise regime, protein as a nutrient becomes even more important. Protein helps the body to recover from all that hard work.
You can of course add whey protein powder to your smoothies, but you can also add more natural ingredients to level up that protein content.
Here are some ideas for you.
Spinach and Kale
Two of the most popular green smoothie ingredients, spinach and kale are actually quite rich in protein, among other key nutrients.
One large cup of spinach will add about 3 grams of protein to your smoothie. Kale contains even more protein than spinach. A quick win!
Almond Butter
Almonds are not just a great snack for in the office, they also work well as an extra ingredient in green smoothies.
Almonds, or almond butter, contains around 20 grams of protein per 100 grams.
Spirulina
Have you tried spirulina yet? While it may not taste great, spirulina is one of the most powerful vegan protein sources.
It's a form of blue-green algae that consists of 50-70% complete protein. Even just one tablespoon of powdered spirulina adds on average 4 grams of protein to your smoothie.
Chia Seeds
Originating from Central America, the tiny chia seed is one of the most nutrient-dense foods in the world.
Add a teaspoon of chia seeds to your green smoothie and you'll be adding a good dose of not only protein, but also magnesium, calcium and dietary fiber, without even tasting it.
6 Delicious High Protein Smoothies
If you love blending as much as I do, then I'm sure you're going to like the following delicious protein smoothie recipes!
1. Green Protein Power Breakfast Smoothie
One of my favorite protein based smoothie recipes is the Green Protein Power Breakfast Smoothie that I found over at I Love Vegan.
Not only does this smoothie have the perfect flavors, it's also loaded with a great variety of different nutrients.

The almond milk, baby spinach and pumpkin seeds work really well with the sweetness of mango and banana.
The protein in this delicious smoothie is provided by the pumpkin seeds and hemp hearts, and also the baby spinach.
It's good to point out that although almonds are a great protein source, almond milk is actually not rich in protein. But it does taste great in this green smoothie!
Ingredients:
1 Cup (250 ml) unsweetened almond milk
1 Ripe frozen banana
1/2 Cup (125 ml) frozen chopped mango
2 Handfuls of baby spinach
1/4 Cup (60 ml) pumpkin seeds
2 Tbsp (30 ml) hulled hemp seeds
Optional: 1/2 scoop vanilla protein powder
2. Strawberry Cottage Cheese Smoothie
A smoothie recipe that includes cottage cheese?
When I stumbled upon this strawberry cheesecake smoothie over at Confessions of a Chocoholic, I couldn't wait to try it out myself.

This little pink creamy beverage does indeed taste very much like delicious strawberry cheesecake, disguised as a nutritious, high-protein smoothie.
Cottage cheese is an excellent source of protein (11g per 100g), and works surprisingly well in this smoothie recipe, especially with the strawberries and vanilla mixed in.
The tangy flavors and creaminess of the cottage cheese blend perfectly with the other ingredients, resulting in a refreshing and filling afternoon drink.
Ingredients:
8 Oz vanilla almond milk
1 Cup frozen strawberries
1/2 Cup cottage cheese
1 Tablespoon ground flax seed
1/8 Teaspoon vanilla
3. Strawberry, Oatmeal and Walnuts Breakfast Smoothie
If you're looking for the perfect breakfast smoothie that fills you up with all the right nutrients, look no further.

This healthy and filling strawberry oatmeal breakfast smoothie has all the right flavors created by a great variety of different ingredients.
The oats, walnuts and chia seeds in this blend give you a great amount of protein, while the strawberries, mango, banana and spinach add plenty of vitamins and fiber to provide you with more than enough fuel in the morning.
Ingredients:
1/3 Cup rolled oats
1/4 Cup walnuts
2 Tablespoons chia seeds
2 Cups frozen strawberries
1 Cup frozen mango chunks
1 Ripe banana
2-3 Cups fresh spinach
1/3 Cup plain yogurt
3/4 Cup almond milk
4. Vegan Paleo Green Protein Smoothie
While spirulina may be incredibly nutritious and of the best vegan sources of protein, it also tastes very green. In other words, it's not the easiest of ingredients to use in your green smoothies.
However, this vegan and paleo green protein recipe over at Wallflower Kitchen is the perfect solution to that problem.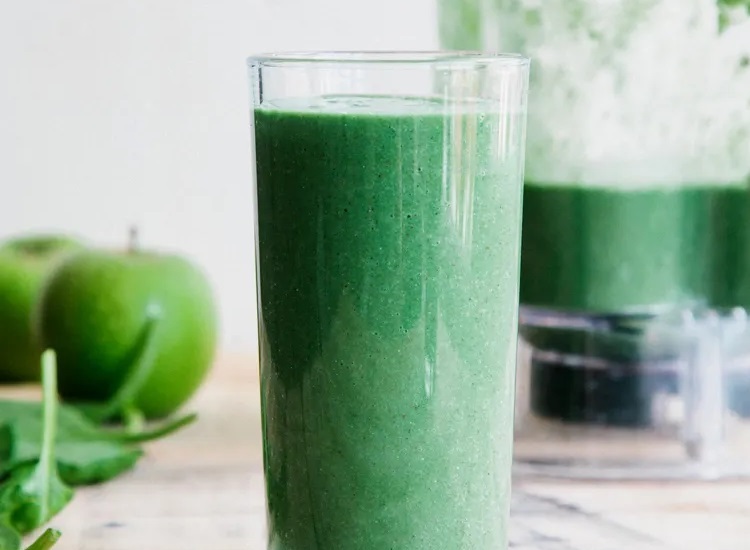 The powerful flavors of raw, fresh ginger paired with the sweetness of the mango and apples make you almost forget that there's also a teaspoon of spirulina in this delicious drink.
The chia seeds and extra hemp powder add even more protein to this nutritious green smoothie.
Ingredients:
2 Cups chopped mango
1 Cup spinach
2 Small green apples
1 Thumb-sized piece of fresh ginger
2 Tbsp chia seeds
1 Heaped tbsp hemp protein
1 Tsp spirulina powder
1 Cup unsweetened almond milk
5. Healthy Chocolate Peanut Butter Smoothie
Does a smoothie with chocolate and peanut butter sound too good to be true?
Katie from Mom's Kitchen Handbook brings you this surprisingly healthy smoothie recipe that tastes like a delicious afternoon treat.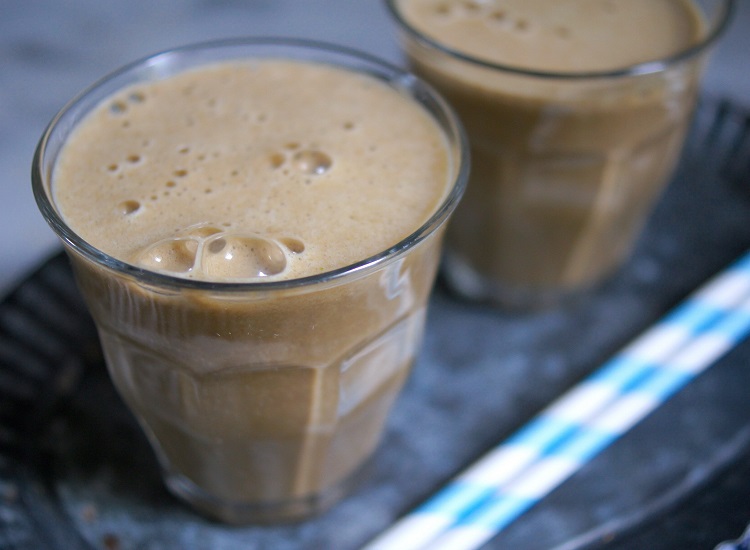 Mix the below ingredients in your blender with a bit of ice and what you'll get is a delicious, creamy smoothie that packs a nutritious punch.
To reduce the total amount of calories you can replace the peanut butter with peanut powder.
Ingredients:
1 Cup milk (cow or goat milk)
2 Tablespoons peanut powder (use butter if you prefer)
1 Tablespoon unsweetened cocoa powder
2 Teaspoons honey
1 Small frozen banana
1 Teaspoon vanilla extract
1/2 Cup baby spinach
6. Morning Green Protein Smoothie
Did I save the best for last?
This Morning Green Protein Smoothie recipe with spinach, almond milk, banana and nut butter that I found at Live Simply is a nutritional powerhouse that works really well on an empty stomach in the morning.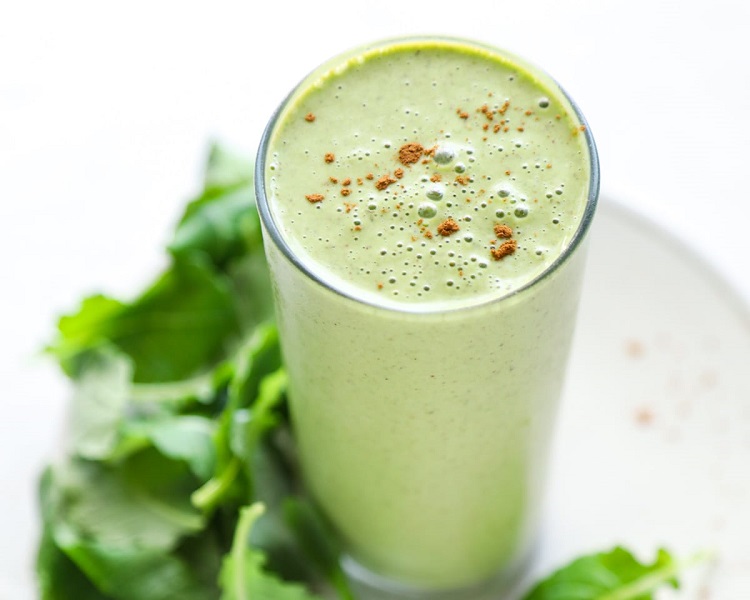 What's great about this smoothie is that it's not too heavy and it's not overloaded with sugars either.
It's designed with nutrition in mind, perfect as a quick and easy breakfast.
Ingredients:
1 Cup almond milk
2 Cups baby spinach or kale
1 Banana
2 Tablespoons almond butter
2 Pinches ground cinnamon
1/4 Cup rolled oats
1 Teaspoon chia seeds
1 Teaspoon hemp seeds
So there you have it, six great smoothie recipes with a focus on protein content. This is just one way of getting your protein in without eating meat.
If you're looking for more great smoothie recipe ideas, check out these resources: