I may earn a small commission from purchases made through product links on this website at no extra cost to you. As an Amazon Associate I earn from qualifying purchases.
Last updated: November 15, 2022
One of my favorite fruits to put in my juicer is pineapple. Interestingly, I don't actually enjoy eating pineapple by itself, but when juiced with other fruits and vegetables, I love it.
Pineapple has very potent flavors that work best when mixed with other fruits and veggies to find a good balance of not only flavors but also nutrients.
Keep reading, as I have picked three delicious pineapple juice recipes for you to try out.
Before we dive into these delicious and refreshing pineapple juice recipes, let's quickly summarize some of the benefits of this tropical fruit and its juice.
Native to South America and widely cultivated in countries such as Costa Rica, Brazil, and the Philippines, the pineapple plant is a member of the bromeliads family.
The pineapple fruit has unique flavors and can be eaten fresh, cooked, or juiced.
Manganese
From a nutrition perspective, pineapple stands out as being rich in manganese and vitamin C, but otherwise has no groundbreaking quantities of essential nutrients.
Manganese is an essential mineral that supports the human body in various ways and is linked to bone development, improved metabolism, wound healing, and antioxidant functions.

Pineapples are fat- and cholesterol-free, and are also low in sodium and calories. They do, however, contain a lot of sugar, almost 10g per 100g of raw pineapple fruit. That is why it's important to consume pineapple juice in moderation.
Also keep in mind that canned pineapple contains much higher levels of calories and sugar, and is less rich in vitamins and minerals than fresh pineapple.
Bromelain
Pineapple also has a long tradition as a medicinal plant because it contains high amounts of a rare enzyme called bromelain.
Bromelain is associated with medicinal uses and body functions such as breaking down complex proteins and reducing inflammation.
It's important to point out, though, that conclusive scientific evidence in this area is lacking.
My favorite juicer on Amazon:

Breville 800JEXL Juice Fountain
The Breville Juice Fountain Elite lets you embrace the power of professionals; A...
UNIQUE EXTRACTION SYSTEM: The Breville juicers titanium reinforced disc and...
SHORT PREP TIME: The Breville juicer machines unique 3 inch extra wide chute...
3 Refreshing Juice Recipes with Pineapple
Enough serious talk; here are three great recipe ideas with pineapple as a key ingredient!
1. Pineapple Ginger Juice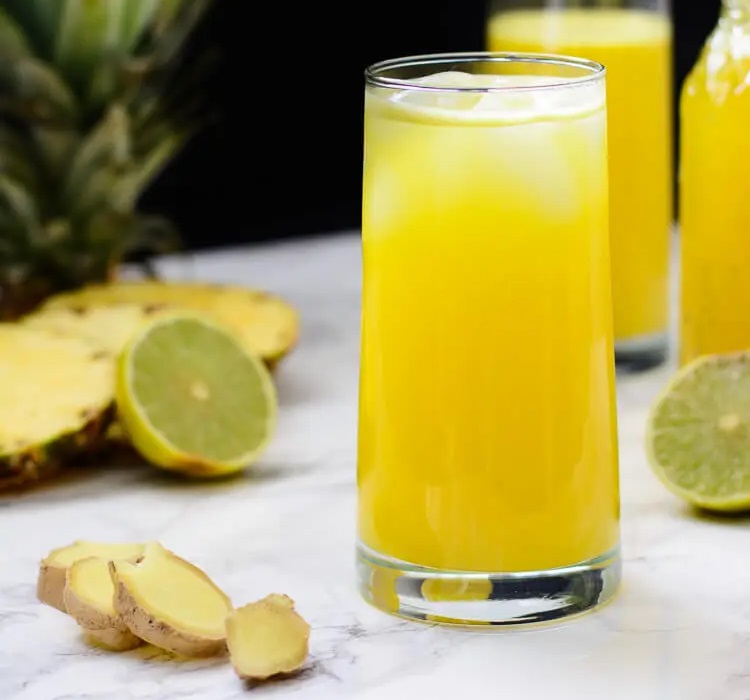 Packed with good-for-you nutrients, this vitalizing pineapple juice spiked with ginger and lime is a real immune system booster that will rival the multivitamin supplements.
Created by Lois over at Yummy Medley, this pineapple juice recipe has deliciously sweet and mouthwatering fresh flavors.
The pineapple, combined with ginger, lime, and a bit of water, is an excellent drink for both the winter and summer months.
Ingredients:
1 Whole pineapple peeled and cut
1 Small thumb size ginger
1 Lime
1 Cup water
2. Beet, Pineapple, Carrot and Lemon Juice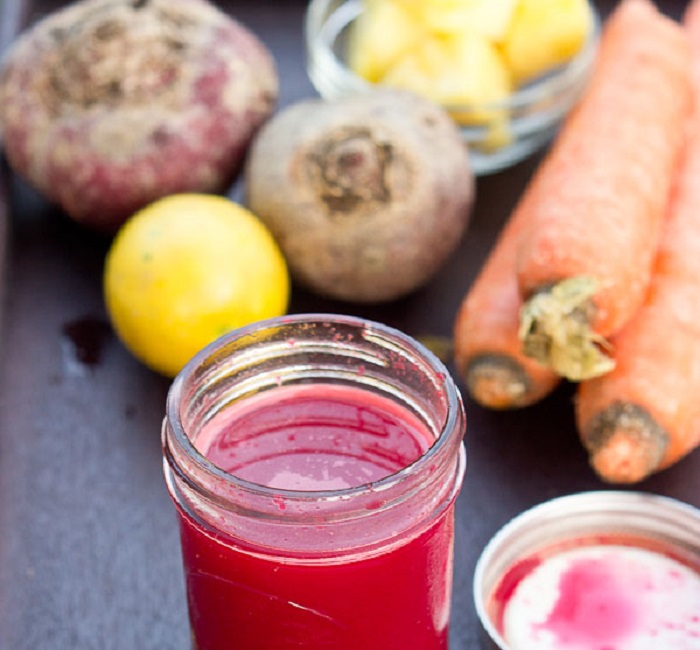 What I like most about this pineapple juice recipe created by Kristina over at love & zest is the variety of different ingredients that work so well together.
It's not always easy to find a well-balanced mix of fruits and greens that results in a juice that is not only nutritious but also tastes nice.
Designed to be consumed in the morning, this potent, tangy juice with beets, carrots, pineapple, and lemon will wake you up in no time.
Cut the veggies and fruits into smaller pieces, add them to your juicer, and get ready to enjoy a super delicious drink.
Ingredients:
1 Beet peeled
2 Carrots roughly peeled
1 Cup pineapple pieces
1 Lemon
3. Pineapple Ginger Cleansing Juice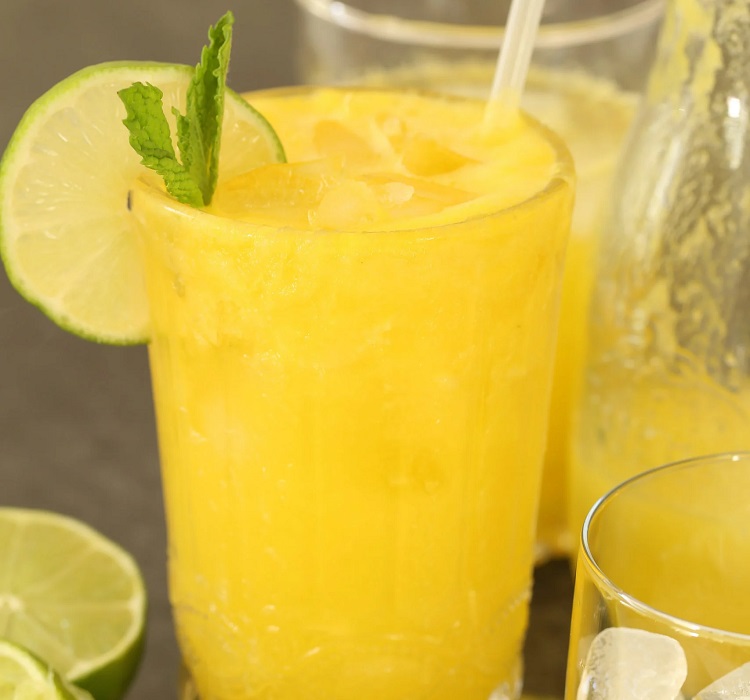 Loaded with anti-inflammatory and digestive-boosting properties, this pineapple ginger cleansing juice not only tastes amazingly fresh, but it's also a nutritious gift to your body.
This pineapple recipe by Deborah over at The Harvest Kitchen contains fresh pineapple, fresh ginger root, one lime and three pieces of turmeric.
I'm a big fan of turmeric because of its benefits, so much so that I also occasionally take turmeric supplements with curcumin.
It's a good idea to add crushed ice and some water before drinking so you can store smaller diluted portions in the fridge for later.
Ingredients:
3 Cups fresh pineapple peeled
2 Inches fresh ginger root peeled
3 Pieces of turmeric
1 Lime peeled