Please note that I may earn a small commission from purchases made through product links in this article at no extra cost to you. As an Amazon Associate I earn from qualifying purchases.
Last updated: September 1, 2023
A guide explaining the differences between white turmeric and yellow turmeric, what curcumin is, and different ways to consume turmeric.
Turmeric is a spice that is very diverse and offers great nutritional benefits, but it is also still relatively unknown in Western cuisine. A few years ago, I started experimenting with turmeric in my dinner recipes, and it has slowly become one of my favorite spices.
But did you know that there is white and yellow turmeric? Although they look very similar (apart from the color, of course), there are quite a few differences between the two. So, let's dive a little deeper into turmeric because there's a lot more to this exciting herb than just spicing up a delicious curry.
White Turmeric vs Yellow Turmeric
When recipes refer to turmeric, this is usually yellow turmeric, as it's the most common of the two. In fact, many people aren't even aware that white turmeric exists.
Both yellow and white turmeric are members of the ginger family, but there are some differences between the two.
Yellow Turmeric
Native to southwest India, yellow turmeric is the root of the Curcuma longa plant. It has a brown/yellow skin and has orange/yellow flesh. It is often referred to as "Indian saffron".
Yellow turmeric smells a bit like a mix of ginger and orange with a somewhat peppery and bitter flavor. The yellow color is caused by the high levels of curcumin (see further below) in turmeric.

Yellow turmeric is mostly known in powder form. The powder is created by boiling, drying, and grinding the root into an orange and yellow-colored powder.
Be careful when using yellow turmeric (especially the powder form), as it can easily cause stains on your clothes!
White Turmeric
White turmeric is often referred to as Zedoaria or Amba Haldi, which is the Hindi name for this spice.
It is the root of the Curcuma zedoaria plant. The Curcuma zedoaria plant is native to India and Indonesia, but has also been cultivated in Europe and the US.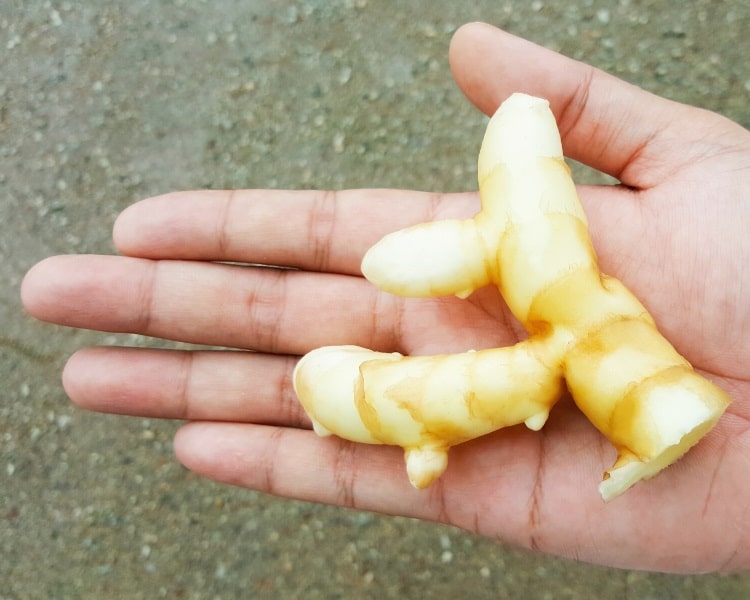 White turmeric has lighter flesh, and its flavor is very similar to that of ginger, but with a more bitter aftertaste.
Although white turmeric nowadays is rarely used anymore as a spice and is often replaced by ginger, it is still used in Asian cuisine. In Indonesia, white turmeric powder is often added to curry dishes.
In Thailand, freshly sliced white turmeric is used as an ingredient in salads. And in Indian cuisine, fresh white turmeric is also used as an ingredient in popular dishes.
Fresh Turmeric vs Dried Turmeric
Cooking with turmeric can be quite challenging, especially if you haven't used it much before. Turmeric has a very strong flavor, so you need to be confident about when to use it and also how much.
Another question is whether to use fresh or dried turmeric. As with anything, fresh is always best, as that's how you'll be able to better enjoy the nutritional benefits.

Dried or ground turmeric is, of course, a bit easier to use. No need to cut anything; just apply it to whatever dish you're preparing. The drawback is that dried turmeric can lose some flavor and nutritional content.
I typically use fresh turmeric for smoothies and let my blender mix it nicely with other fruits and vegetables. I like to use dried turmeric (powder) to marinate meat, together with other ingredients.
I love cooking different meals daily, and using turmeric, or other spices and herbs, is often a trial-and-error process. And the more you experiment, the more you'll learn about what works and what doesn't work so well.
Another one of my favorites is to add dried turmeric to rice, just to add some color and mild flavor to it. Works great!
Turmeric Supplements
The other option is to go for turmeric supplements that contain curcumin as the key ingredient. When you buy a turmeric supplement, make sure that you read the label properly, as not all turmeric supplements are the same.
Be sure to read my article about the ingredients and effectiveness of turmeric and curcumin supplements so you can decide which ones are best for you.
Sale

NatureWise Turmeric Curcumin Supplement
NATUREWISE ORGANIC CURCUMIN: with 95% curcuminoids packs 750mg of Organic...
ENHANCED ABSORPTION: Curcumin by itself is poorly absorbed by the body. Our...
PLANT-BASED ANTIOXIDANT: with 95% curcuminoids that supports healthy...
One of the most essential elements of turmeric is curcumin. The terms turmeric and curcumin often get mixed up even though they are two different things.
Curcumin is the most beneficial compound in turmeric and has been used as a traditional herbal medicine for many centuries, mainly in India and China.
It is curcumin that has made turmeric so well-known and popular in Asian countries. Western medicine has also slowly been studying the positive effects of turmeric and curcumin on our health.

Turmeric root contains around 2-5% curcumin. So, if you're using turmeric powder purely for its health benefits, you would need to consume quite a large amount of powder to make the most of it.
It's more efficient in that case to use a curcumin extract rather than consuming turmeric powder.
Benefits of Curcumin?
While not all of the health benefits of curcumin have been clinically proven, this compound has been known to reduce chronic pain and inflammation, among other benefits.
Studies have also shown that curcumin can be effective in managing depression symptoms. Curcumin helps to increase the serotonin and dopamine levels in the brain, known as "feel good" neurotransmitters.
It must be pointed out that studies have shown that taking large doses of turmeric or curcumin for a longer period of time can have side effects, such as vomiting, nausea, and diarrhea.
Fresh turmeric can basically be treated the same way as ginger. If you buy a large amount of turmeric and you won't be using all of it in the short term, you can easily freeze it.
Simply cut the roots into smaller sizes and leave them in the freezer.

Turmeric won't lose much (if anything at all) of its nutritional or medicinal properties. I'm actually not sure how long you can keep it frozen, but I've had turmeric frozen for over two months, and it was still good to use.
For shorter-term use, you can simply put turmeric in an airtight container or plastic bag and keep it in the fridge for a maximum of two weeks.
Read my guide on how to store ginger with practical tips for keeping ginger (and turmeric) fresh.
Hopefully this post has encouraged you to start experimenting with this tasty herb. White and yellow turmeric offer some interesting health benefits, and there are many different ways to add it to your diet.
As a smoothie fan, I love adding small doses of turmeric (and ginger) to my smoothie recipes. It's a quick and easy way to enjoy the benefits.
Turmeric can also be used as a powerful ingredient in tea. I found this delicious turmeric tea recipe, with turmeric, ginger, black pepper, and honey. It works great when you have a bad cold or flu!