I may earn a small commission from purchases made through product links on this website at no extra cost to you. As an Amazon Associate I earn from qualifying purchases.
Last updated: August 18, 2023
This article about stroopwafel irons carries a bit of nostalgia for me. As a child, with my Dutch heritage, I was lucky enough to be treated to stroopwafels (stroop waffles, or thin waffles) quite often.
And today, I still happily make my very own stroopwafels at home because they are just so irresistibly delicious. Perhaps not very healthy, but it's okay to indulge sometimes, right?
To share my enthusiasm for stroopwafels with you, I am going to explain what they are, what they are not, and what you need to prepare them in your kitchen at home. Yum!
Originating from The Netherlands, a stroopwafel is essentially a cookie that consists of two thin layers of baked dough that are joined by a caramel filling. The Dutch word "stroop" means syrup, and "wafel" means "waffle".
Sounds simple, right?
A stroopwafel is indeed a pretty straightforward cookie. But as with so many other authentic delicacies, it's important to get the ingredients and process right.
And that involves the crispiness, the chewiness, the thickness, the grid pattern on the outer layers, and the flavors.
Authenticity
Stroopwafels were "invented" in the Dutch city of Gouda at some point in the 19th century, but nobody seems to know exactly when.
Mass factory production of stroopwafels started to take off in the 20th century across The Netherlands.

If you ever get to visit The Netherlands, chances are you'll find stroopwafels on every street corner; that's how popular and mainstream they are.
Unfortunately, there are lots of thin waffle products marketed and sold as stroopwafels, but in reality, they aren't actually authentic stroopwafels.

Similarly, you will find a lot of thin waffle makers marketed as stroopwafel irons, but they aren't that. A thin waffle simply isn't the same as a stroopwafel. A thin waffle can come in various shapes, flavors, and sizes.
But a stroopwafel is a very specific type of waffle cookie, with its own unique shape, grid pattern, texture, and ingredients.
What About the Belgian Waffle?
An authentic Dutch stroopwafel is also not the same as a typical Belgian waffle, but they do often get mixed up.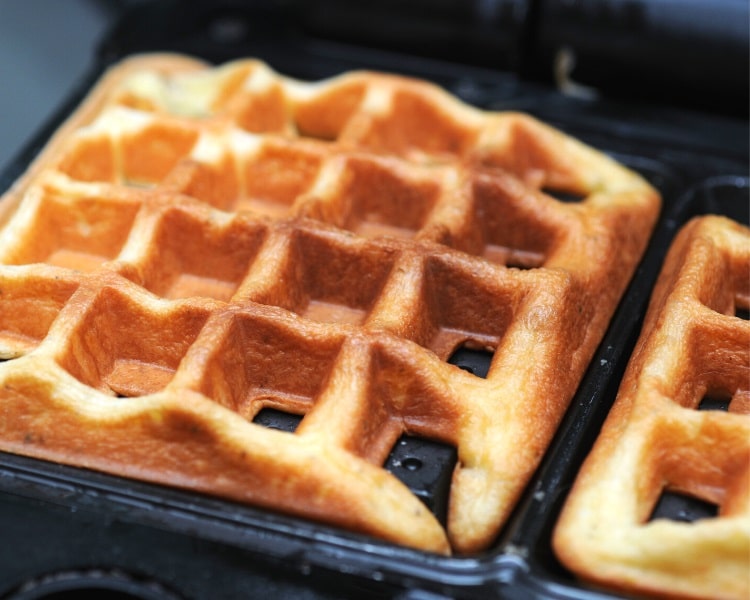 A Belgian waffle typically is much thicker than a stroopwafel, and also has a different pattern. It also doesn't have a caramel filling on the inside.
Many thin waffles are similar to the traditional Belgian waffle, but they are also not the same as the traditional Dutch stroopwafel.
Stroopwafel Ingredients
Let's take a look at what goes into an authentic Dutch stroopwafel so that you can try and make them yourself with an iron.
Note that the below ingredients for the waffles and the filling aren't set in stone; they are guidelines only. You're free to experiment and adjust where you believe it's necessary.
Dough (for the waffles):
1 tsp (half pack) active dry yeast
1/4 large cup warm milk
2 cups flour
1/2 cup melted butter
1/4 cup white sugar
1 raw egg
Mix the milk and yeast in a bowl and let it sit for 5 minutes. Add the egg, melted butter, and sugar, and stir in the flour. Knead the mixture into a ball and allow it to rise for roughly an hour.
Filling (for the inside):
3/4 cup brown sugar
1/2 cup butter
1/2 tsp cinnamon
3 tbsp dark corn syrup
Place all ingredients in a saucepan and stir until boiling. Allow the mixture to cool off once the butter and sugar have dissolved.
How to Make Stroopwafels With a Stroopwafel Iron
With the dough and the filling we've created in the previous step, here's how to turn them into stroopwafels with an iron:
Place 2.5 tablespoons of dough (per stroopwafel) on the iron
Close the iron and let it cook for a little over a minute until they are golden brown
Slice the cookie into two layers with a sharp knife while they're still warm
Spread about 2 teaspoons of the caramel filling onto one layer and add the other layer on top
Optional: place the stroopwafel on the iron for a short time just to warm it up if preferred
Note that you can also spread the caramel filling between two cookies rather than slicing one open. Whatever is easiest for you.
Characteristics of a Good Stroopwafel
What do I think are the non-negotiable characteristics of an authentic Dutch stroopwafel?
They must be thin
They must be crispy and chewy
They must have a thin layer of smooth caramel-type filling inside
The outer layers must have the right grid pattern
I say this with a bit of tongue-in-cheek, of course, but I do think it's important to get the essentials right.

Specially Selected Caramel Stroopwafels
STROOPWAFELS - Caramel Wafers Imported from Holland - The Netherlands
DUTCH TRADITION - Delicious wafers filled with buttery creamy caramel
PERFECT GIFT - Great for the holidays, Fall or Winter Weather
What Is the Best Stroopwafel Iron?
Stroopwafel irons that can make perfect, authentic stroopwafels, with the right texture and patterns, are very hard to find. They're essentially sold as thin waffle makers, or pizzelle makers, not real stroopwafel irons.
However, if you get the ingredients and process right, with the below three kitchen appliances, you can still make delicious cookies that look and taste like real stroopwafels.
1. Chef's Choice Nonstick Pizzelle Maker
This is an example of a good quality pizzelle maker that you could use to make stroopwafels. This Chef's Choice model has room for two 4 3/4 inch waffles to be prepared at once in less than 30 seconds.
It's an electric appliance with baking and ready lights, and offers consistent even heating for perfect baking and non-stick easy-release coating.
This makeshift stroopwafel iron also features a one-handed locking latch for that uniform thickness and a beautiful stainless steel finish that makes it look sleek and stylish on your kitchen countertop.

Chef's Choice Nonstick Pizzelle Maker
Pizzelle Cookie Maker: Always hot, this pizzelle press features instant...
Quick and Easy: Make 2 4.75-inch pizzelle cookies in under 30 seconds; This...
Consistent Baking: Designed to provide consistent, even heating, this pizzelle...
2. CucinaPro Nonstick Electric Pizzelle Maker
This CucinaPro model is another nonstick pizzelle maker that can be used to make delicious stroopwafels. It can make two cookies with different patterns at one time, each measuring 5 inches.
The thick baking plates ensure that the heat gets distributed perfectly, and the steam guard protects your hands. Also very important is the non-stick surface, which makes cleaning up super easy.
Sale

CucinaPro Nonstick Electric Pizzelle Maker
Pizzelle Baker- Makes 2 pizzelles at one time- Recipes Included!
Pizzelle Maker- Cookies measure at 5 inches, the perfect bit size for cones. Fun...
Pizzelle Press- Steam guard protects hands. NEW Updated Nonstick Model has GREY...
3. Palmer Electric Belgian Cookie Iron
While this model is branded as a Belgian cookie iron, it's also quite suitable for making Dutch stroopwafels. It can bake two thin and crisp waffles on high-quality aluminum plates.
The cast plates extend down the side of the unit, which makes for really easy cleaning in case of any overflow.
Are you excited about stroopwafels after reading this article? Are you keen to try and make them yourself?
If you've never had real stroopwafels before, I recommend you buy a pack first and see if you like them. Try to find them at your local supermarket, or otherwise buy them online.
I know for a fact that not everyone likes them, mainly because of their rather unique texture. But if you do find them as delicious as I do, then it may be worth investing in a new stroopwafel iron!