Please note that I may earn a small commission from purchases made through product links in this article at no extra cost to you. As an Amazon Associate I earn from qualifying purchases.
Last updated: August 13, 2023
This may come as a surprise to some, but chocolate smoothies can still be healthy and nutritious, depending on the type of chocolate and the other ingredients used.
I don't know about you, but I love chocolate. Dark chocolate, that is. Dark chocolate does have some surprising benefits, as long as you consume it in moderation, of course.
But chocolate, or cocoa powder, in smoothies is a whole different story. It would have never occurred to me to add chocolate to my smoothies until my neighbor suggested trying it out.
And once I did, I was hooked instantly. The trick is to find that perfect balance. Too much chocolate will ruin the overall flavors; too little and you won't even be able to taste it. A good chocolate smoothie recipe typically results in a rich, creamy drink that works well in the morning.
6 Delicious Chocolate Smoothies
I've shortlisted six reasonably healthy chocolate smoothie recipes that I think you will love.
Simply try them out and play around a bit with the ingredients until your taste buds are fully satisfied.
1. Chocolate Avocado Smoothie
By far one of my all-time favorite smoothie ingredients is avocado. And not just the fruit itself, but also the avocado seed!
Yes, you can indeed blend avocado seeds if you have a powerful enough blender. But that's not what this recipe is about, though.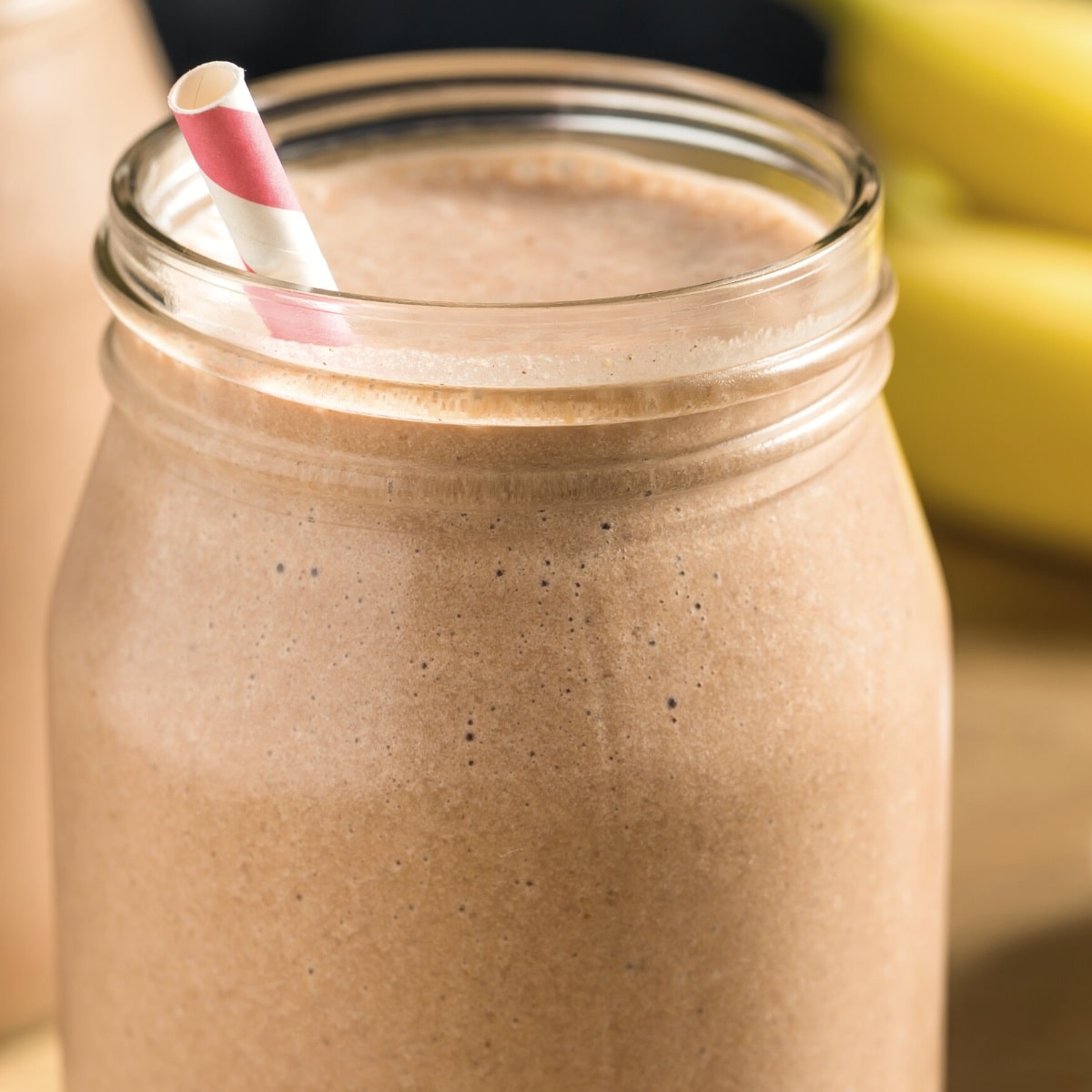 This filling chocolate avocado smoothie with banana, spinach, and honey ticks all the right boxes when it comes to flavors and nutrients.
This is my favorite smoothie in this list of healthy chocolate smoothie recipes, and I specifically love drinking it in the morning. Try it out!
Ingredients:
1 whole avocado (pitted)
1 large banana (frozen or fresh)
2 tbsp cocoa powder (or raw cacao)
1 cup fresh spinach leaves
1 large cup milk (or almond milk, non-dairy milk)
1 tsp honey (optional)
1/2 cup ice cubes (optional)
2. Chocolate Peanut Butter Banana Breakfast Shake
Who doesn't like chocolate for breakfast?
The three core ingredients in this delicious smoothie shake, banana, peanut butter, and cocoa powder, create such rich flavors that you will want to drink this every morning.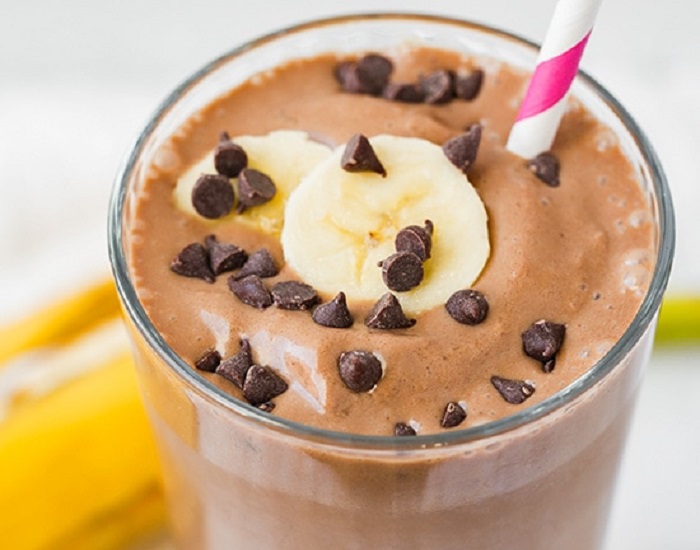 Jaclyn over at Cooking Classy is responsible for this addictive chocolate smoothie recipe that also includes almond milk and vanilla extract.
The sweetness of the ripe banana works well with the cocoa powder, but if you'd like it a bit sweeter, you could add in a little honey.
Ingredients:
2 large overripe bananas
1 cup almond milk
1/4 cup creamy peanut butter
2 tbsp unsweetened cocoa powder
1/2 tsp vanilla extract
3/4 cup ice
1 tsp honey (optional)
3. Healthy Chocolate Smoothie
This rich and velvety chocolate smoothie recipe has one ingredient that you would never be able to guess! Are you ready for it?
Sweet potato!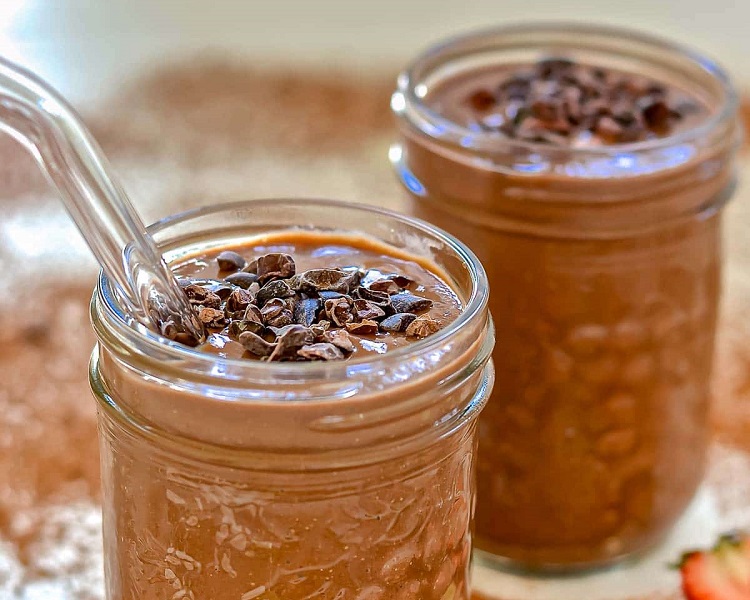 That's right, this surprisingly tasteful smoothie contains half a cup of cooked sweet potato, creating that natural sweetness that makes this recipe a winner.
Melanie over at A Virtual Vegan has created a chocolate smoothie recipe that is not only full of exciting flavors, it's also loaded with a great variety of nutrients. This smoothie works well as a breakfast replacement, but also as a healthy afternoon snack.
Ingredients:
1 cup non-dairy milk
1 ripe banana
1/2 cup cooked sweet potato
1 tbsp cocoa powder
1 tbsp maple syrup or 1 medjool date (optional)
1 tbsp chia seeds
5 ice cubes
4. Cherry Chocolate Smoothie Recipe
Loaded with antioxidants, fibers, and plant-based proteins, this tasty cherry chocolate smoothie recipe will please almost everyone!
Not only is this chocolate smoothie full of rich flavors, but it is also surprisingly low in calories.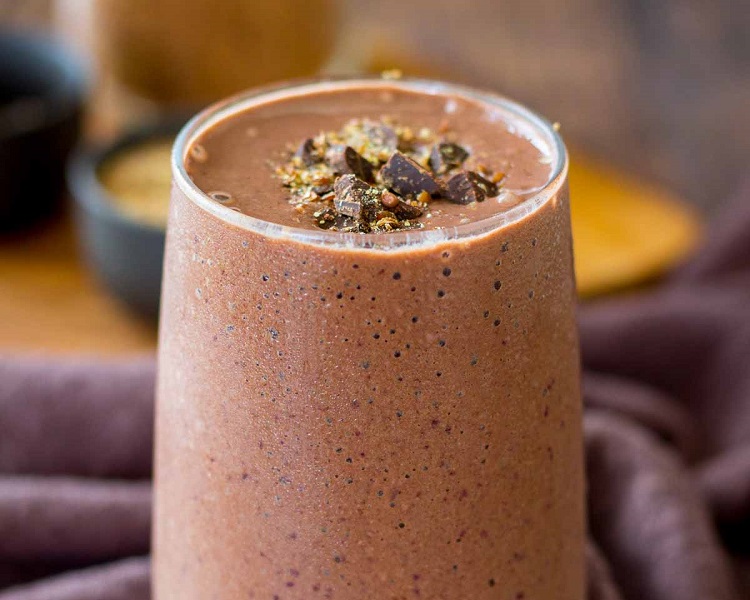 If you love cherries as much as I do, then you'll certainly appreciate this smoothie. The combination of raw cocoa powder and cherries works amazingly well, with a ripe banana delivering that extra sweetness.
You can find this exciting recipe over at Natalie's Happy Health.
Ingredients:
1 cup cherries (pitted and frozen)
1 banana (ripe and frozen)
2 tbsp raw cocoa powder
1 tbsp ground flax seed
1 tsp Ceylon cinnamon
1 cup water
Topping: raw cocoa beans, ground flax seed
5. Healthy Mint Chocolate Smoothie
This naturally sweet, creamy, and protein-rich chocolate smoothie recipe stands out with its delicious minty flavors.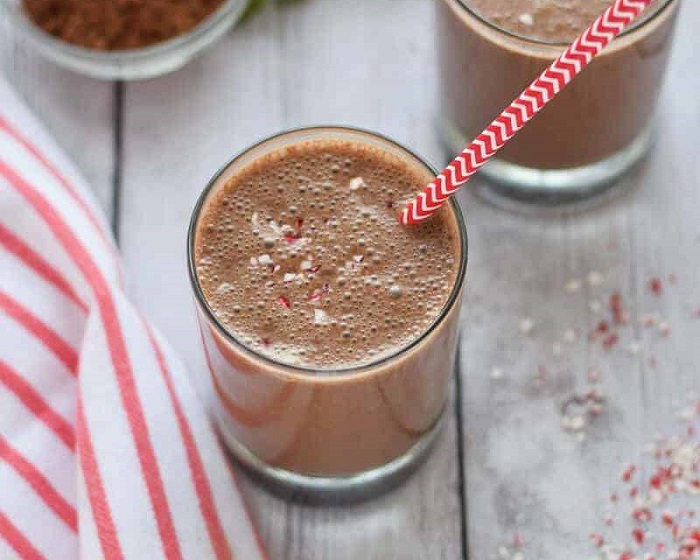 Karen over at Seasonal Cravings is the creator of this unique smoothie recipe that works well as breakfast but also as a dessert.
Simply mix all ingredients in a high-powered blender, pour into a glass or cup, and enjoy with a straw. You can add more milk (or a bit of water) to make a thinner smoothie.
Ingredients:
1 cup coconut or almond milk
1 banana
1 tbsp almond butter
1 tbsp cocoa powder
1/4 tsp peppermint flavoring
Ice
6. Chocolate Beet Smoothie Recipe
This chocolate smoothie recipe with beet is a true powerhouse. The combination of cocoa powder and cooked beets delivers lots of vitamins, minerals, and antioxidants.
And the protein, healthy fats, and carbs make this smoothie the perfect pre-workout drink too!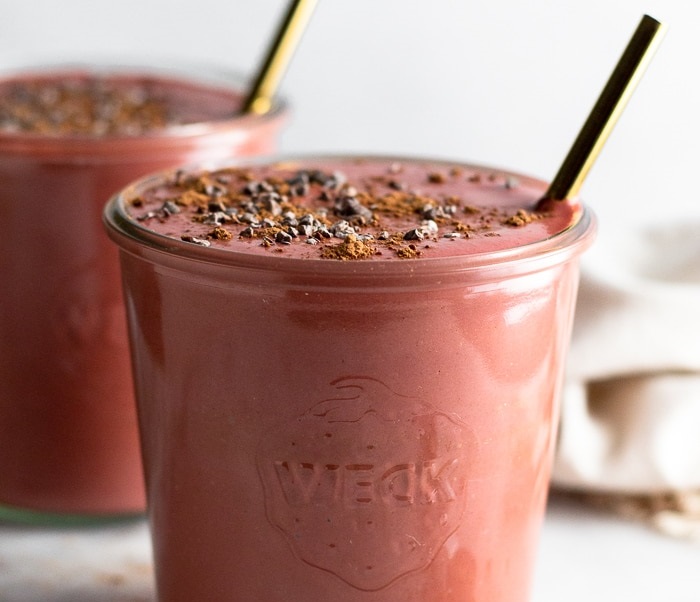 As you can tell by the long list of exciting ingredients below, this healthy chocolate smoothie recipe packs a punch.
A lot of thought has gone into this smoothie recipe, which you can tell once you drink it. It's a super nutritious, flavorsome, and filling drink.
Ingredients:
1/2 cup unsweetened vanilla almond milk
3/4 cup plain Greek yogurt
2 medium cooked beets (chopped)
1 tbsp almond butter
1 heaping tbsp cacao powder
1 tsp maple syrup
1/2 tsp cinnamon
1 cup ice cubes
There you go, chocolate smoothies that not only taste good but also offer some great nutritional benefits.
If you're looking for more healthy smoothie recipe ideas, make sure you check out the following resources:
Happy blending!