Please note that I may earn a small commission from purchases made through product links in this article at no extra cost to you. As an Amazon Associate I earn from qualifying purchases.
Last updated: June 18, 2022
Kale may not be everyone's favorite leafy green, but it is definitely one of my most used green smoothie ingredients.
Not only is kale a very nutritious vegetable, but it's also a smoothie ingredient that blends well with fruits and other greens.
This is why I've selected eight delicious kale smoothie recipes that will hopefully inspire you to consume more of this powerful vegetable and take advantage of its nutritional benefits.
Why Use Kale in Smoothies?
Kale is a bit underappreciated. Perhaps because it doesn't taste as great as its rival spinach. Kale has a somewhat bitter taste whereas spinach has a more neutral taste which is naturally more appealing.

Spinach is also easier to cook nice meals with and you'll find many more recipes with spinach than with kale.
In addition, raw spinach can easily be added to salads, but you wouldn't do that as easily with kale. This is a pity because kale is such a nutritious vegetable.
Nutritional Profile
Looking at the nutritional profile of kale, it's clear that this leafy green is a particularly rich source of vitamin A, folate, vitamin C and vitamin K.
The amount of vitamin K in 100g of kale is equivalent to almost 700% of the daily value!
In addition, kale is also a good source of protein and dietary fiber. Kale is also super low in calories and has zero fat, so if you're trying to lose weight, this leafy green is your friend.

Make sure to read my tips to help you blend kale the right way, so you can get that smooth texture without the chunky bits. And mixed with the right ingredients, kale is the perfect leafy green to include in your smoothies.
It's important to keep in mind though that all leafy greens are a great source of different nutrients, minerals, and vitamins.
When blending, change your ingredients regularly and don't stick to just one or two vegetables. Variation is key!
Let's dive into it, here are 8 recipes for delicious and super healthy green smoothies with kale as the key ingredient.
They are all pretty easy to prepare, without any exotic or hard-to-get ingredients. Feel free to experiment with some of the ingredients to give it your personal touch. You'll be surprised at how tasty a kale smoothie can be!
1. Kale, Spinach and Avocado Green Smoothie
Combining two of my favorite veggies and mixing them up with avocado and fresh fruit results in a super nutritious and very green-looking smoothie!
This kale and spinach smoothie recipe also has a good dose of spinach for extra nutrients, and the banana adds that extra bit of sweetness.

I love drinking this in the morning as a healthy wake-me-up breakfast smoothie, or otherwise in the afternoon to fight that inevitable 3 pm afternoon energy crash.
Feel free to add some flax seeds or chia seeds to make this smoothie even more nutritious. A bit of lemon juice also works well to make this smoothie even more powerful.
Ingredients:
1 Large cup kale
1 Large cup spinach
1/2 Avocado
4 Strawberries (options)
1 Large banana (fresh or frozen)
Water + ice cubes
2. Vegan Detox Green Monster Smoothie
This fruity vegan detox green monster smoothie recipe is a delicious mix of all the right fruits with kale leaves and vanilla almond milk for extra flavor.

Cucumber is another underappreciated ingredient to put in your smoothies. With its high water content, cucumber is very easy to blend and a great alternative to plain water.
For additional flavors, you can experiment with ingredients such as peanut butter, blueberries, ginger, or lemon.
Ingredients:
3/4 Cup frozen strawberries
1/2 Cup cucumber (peeled and sliced)
1 Large frozen banana
1 1/2 Cup vanilla almond milk
1 1/2 Cups kale leaves
3. Kale Ginger Detox Smoothie
Looking for an easy way to detox after a tough night out or after an indulging holiday? This surprisingly delicious kale ginger detox green smoothie recipe is worth a try!
The combination of kale, ginger, blueberries and cinnamon make this recipe an absolute winner for me.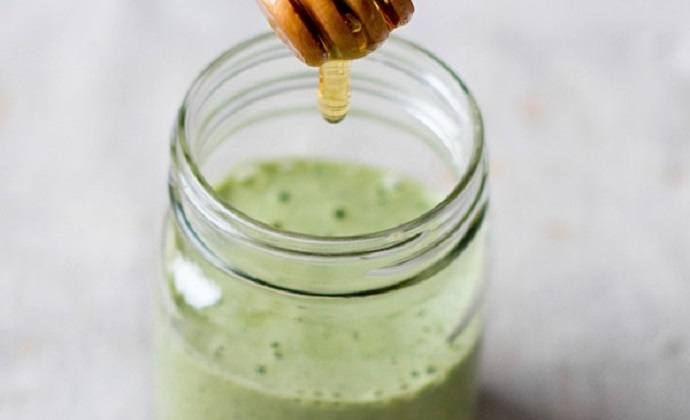 So many flavors in all the right places, not to mention the great variety of different nutrients you get to absorb when drinking this delicious smoothie.
Even if you're looking to detox, please do try this kale smoothie recipe, you won't regret it! Note that with the frozen ingredients, it may be worth using the pulse button if your blender has one included.
Ingredients:
1 Frozen banana
1/2 Cup frozen blueberries
2 Tsp grated ginger
2 Cups kale leaves
1 Cup unsweetened almond milk
1/8 Tsp ground cinnamon
2 Tsp raw honey
1 Tbsp chia seeds (optional)
4. The Ultimate Kale Green Smoothie
Declared by Spoon University as the best green smoothie ever, I couldn't resist trying this kale smoothie recipe out for myself.
I must say, this smoothie recipe is indeed a keeper. Perhaps not the best one I've ever made, but it's up there.

Perfect for a quick and healthy breakfast, this powerhouse smoothie with kale, pineapple, avocado, and coconut water is an absolute delight, packed with a great number of nutrients. If you need a bit more protein in the morning, add some whey protein powder to complete this recipe.
I have tried this recipe twice, but the second time I also included the avocado seed. Yes, you can eat that too!
Ingredients:
1 Large ripe banana
1/2 Cup frozen or fresh pineapple chunks
1 1/2 Cup raw kale
1/2 Cup unsweetened soy or almond milk
1/2 Cup unsweetened coconut water (yum!)
1/4 Avocado
1/4 Cup plain yogurt
1 Scoop protein powder (optional)
5. Kale Pineapple Chia Smoothie
Few know about the powerful health benefits of chia seeds. Loaded with iron, magnesium, calcium, protein, and omega-3 fatty acids, these tiny seeds sure pack a punch.

One way of consuming chia seeds is to simply add a teaspoon to your green smoothies.
This kale smoothie recipe with pineapple, coconut milk and apple also includes chia seeds for extra nutrition. It's a very simple yet clever smoothie that will satisfy your taste buds at any time of the day.
Ingredients:
2 Tbsp chia seeds
1 1/2 Cup unsweetened coconut milk
2 Cups chopped kale
1 1/2 Cup pineapple chunks
1 Small chopped apple
1/2 Cup ice cubes
6. Mean Green Kale Smoothie
Hemp seeds are another great vegan protein source that you can easily add to your green smoothies for a quick protein boost.
This simple but delicious green kale smoothie recipe by Blissful Basil does exactly that!

The sweetness of the banana and almond milk works brilliantly with the bitterness of the kale.
For even more sweetness, add some pineapple chunks or an extra banana. Perhaps a teaspoon of honey will work well too.
Ingredients:
1 Frozen ripe banana
1 Cup frozen or fresh kale
3/4 Cup sweetened vanilla almond milk
1 Tbsp hemp seeds
7. TropiKale Smoothie
Definitely my favorite one in this list of kale smoothie recipes, this TropiKale (great name!) green smoothie combines four delicious fruits with kale and coconut water.
Breakfast will never be the same again after drinking this one!

Since this is a very fruity recipe, you can easily add some more greens for a better balance between fruits and vegetables.
Spinach and perhaps a bit of parsley are great candidates.
Ingredients:
1 Cup coconut water
1 Ripe banana
1/2 Cup frozen pineapple chunks
1/2 Cup frozen mango chunks
1/2 Cup frozen strawberries
1 Cup kale leaves
Handful of ice
8. Mango Ginger Kale Green Smoothie
Ginger and lemon are two ingredients I almost always add to my smoothies.
Both of those ingredients are incredibly nutritious and they add very strong flavors to green smoothies.

This smart recipe by the Minimalist Baker combines ginger and lemon with kale, mango and peaches resulting in an absolutely delicious and powerful drink.
The marble syrup is an optional ingredient, depending on how sweet the fruit comes through in the smoothie. I didn't feel the need to add it in as the flavors were just perfect.
Ingredients:
2 Cups kale
1 Cup ripe frozen mango cubes
1 Cup ripe frozen peaches
1 Tbsp minced fresh ginger
2 Lemons or limes (juiced)
2 Cups filtered water
1 Tbsp maple syrup (optional)
1 Cup ice (optional)
Who knew that kale smoothies can also taste good?
Jokes aside, kale is a super nutritious vegetable, and blending them with other fruits and veggies into smoothies is a great way to get those nutrients in.
Here are some more smoothie recipe ideas for you:
Happy blending!